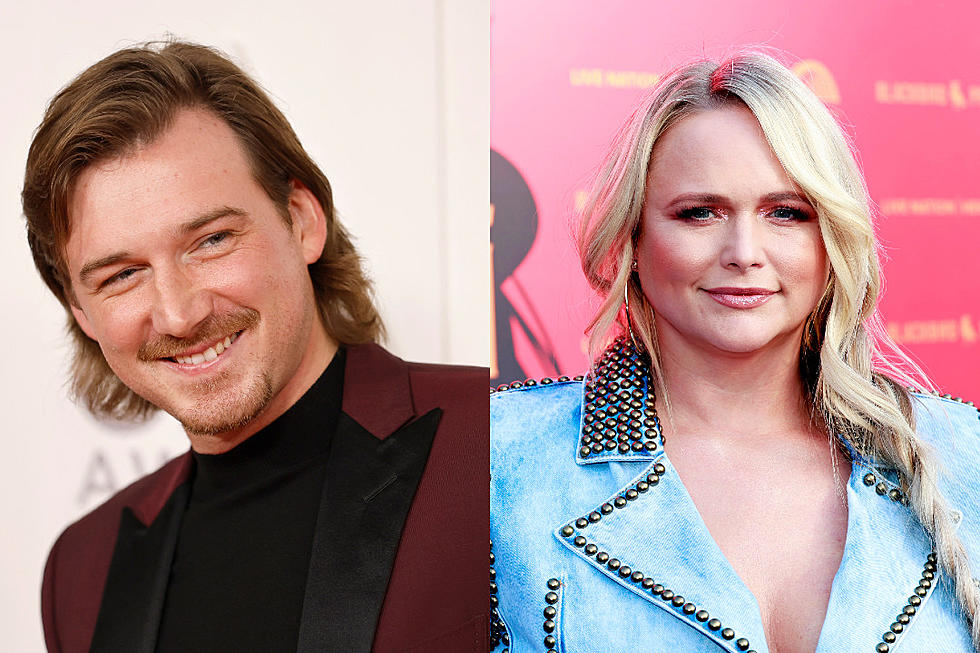 Miranda Lambert Hopes She Gets to Hug Morgan Wallen's Mom Someday
Jason Kempin, Emma McIntyre, Getty Images
When Miranda Lambert co-wrote Morgan Wallen's "Thought You Should Know," it also gave her a chance to get to know the young country superstar. Now, she says that working on the ballad left her with a favorable impression of Wallen — and an even sweeter impression of his mom.
Lambert remembers the experience in a new interview on Southern Living's Biscuits & Jam podcast, where she explains that it all came about after she and songwriter Nicolle Galyon had been hanging out drinking rosé wine one day.
"She called me the next day and was like, 'Hey, I have a write with Morgan today and somebody backed out. Do you wanna come?' And I was like, 'Sure'," Lambert recalls.
"We had the best day," she continues. "We sat on her porch and made a couple drinks and just really talked. And I got to know Morgan. He's a sweetheart. He's a little East Tennessee boy and a new artist. I try to be there for new artists of any kind because I know the road ahead, and that it can be bumpy."
Wallen is no stranger to "bumpy." He spent much of 2021 offstage, after being benched by much of the music industry when video emerged of him shouting a racist slur as he bid goodnight to a car full of friends outside his home. Wallen has since made his way back to the top of the charts, but he got sidelined once again this summer, this time due to a vocal injury that forced him to postpone six weeks of shows on his hotly-anticipated 2023 One Night at a Time Tour.
But in her writing session, Lambert got to know a softer side of Wallen.
"We were just talking about, like, 'What do you want to write about?' And he was like, 'I kinda wanna write a song to my mom 'cause I know she worries about me so much,'" she details. "And so we did."
"And it was really cool for Morgan to let down his guard and write with two girls about somebody that's so special to him. I'm glad that he felt comfortable enough to, like, open up to us and let us sort of tell that story for her," Lambert continues.
She has yet to meet Wallen's mom, but Lambert says that after writing "Thought You Should Know," she already feels a special connection to her. "I'd wanna give her a hug round her neck, 'cause I'm very proud to be part of a song that's about her," she goes on to say.
Lambert has previously said that she enjoyed the process of writing for another artist, functioning solely as a songwriter instead of considering each songs she pens for an album of her own. Next month, country fans will get to hear another song that Lambert co-wrote for another up-and-coming artist: She's a writer on a track called "The Lost," which will be featured on Jelly Roll's upcoming Whitsitt Chapel.
There's also a possibility that fans will get to hear another Lambert-written track from Wallen in the future, since the singer says "Thought You Should Know" isn't the only song they wrote during that session.
"We wrote three songs that day, actually," she reveals. "I love them all. But ['Thought You Should Know'] was for sure special."
PICTURES: See Inside Miranda Lambert's Luxurious Nashville Mansion
Miranda Lambert's former mansion in an exclusive part of Nashville is currently up for sale, and pictures reveal a stunning luxury home with gorgeous views.
The 5-bedroom, 5.5-bathroom, 6,261-square-foot house in the Forest Hills section of Music City is currently on the market for $3.98 million.