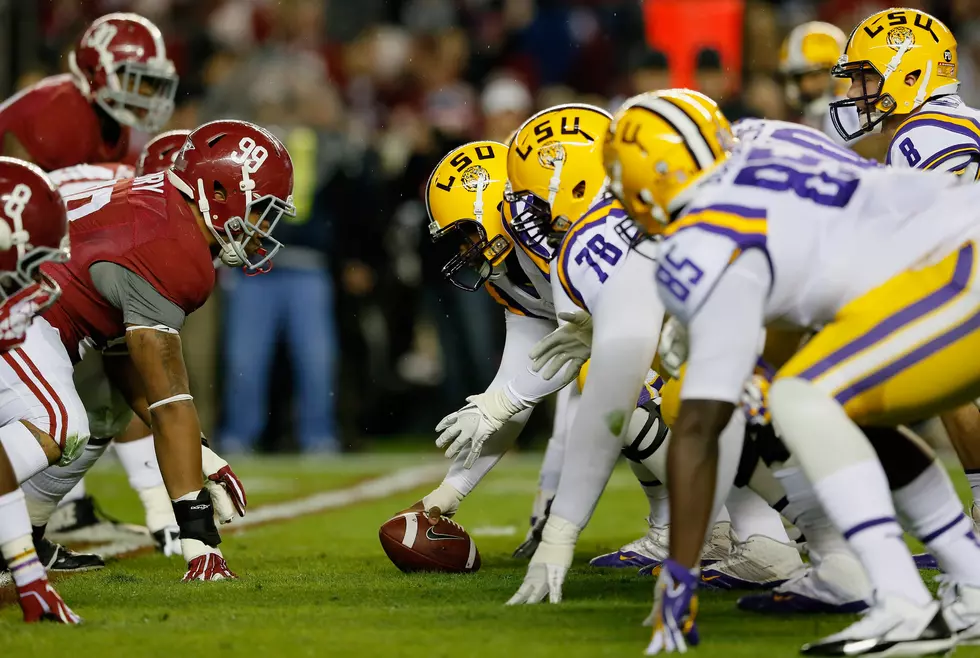 Five Fun Facts About LSU/Alabama Football Rivalry
Kevin C. Cox/Getty Images
The biggest game on the schedule for both Alabama and LSU's football teams is their annual match-up. The yearly game is always the most important for both programs because it usually determines who will win the SEC West, make it to the SEC championship with playoff implications.
The College Football playoff rankings determine who will be in the four-team playoff to battle it out for the National Championship of college football. The winner of this game is usually one of those four teams.
Here are some facts about the LSU/Alabama rivalry.
#5 -- LSU & Alabama have finished in a tie game five times
The rivalry has finished in a tie in 1921, 1927, 1944, 1953, and 1985.
#4 -- LSU/Alabama's first game ever was played in the 1800s
The first time the two teams squared off was in 1895, and LSU won the game 12-6 in Baton Rouge, Louisiana.
#3 -- The regular season rivalry game between LSU and Alabama has been played in six different cities throughout the years. 
The game has been played in Baton Rouge and New Orleans, and in Birmingham, Montgomery, Tuscaloosa, and Mobile, Alabama.
#2 -- LSU's Tigers Stadium Seats More than Alabama's Bryant Deny Stadium
In 1924, LSU's Tigers Stadium in Baton Rouge opened with a capacity of 12,000 people. Today, the stadium seats 102,321.
In 1929, Bryant Deny Stadium in Tuscaloosa opened with a seating capacity of 18,000. Today, the stadium seats 101,821 fans.
#1-- Both LSU and Alabama's football programs are over 100 years old
LSU's football program started in 1893 while Alabama's football program started one year earlier in 1892. Alabama leads the series 53-25-5 overall.
Well, no matter the history, each year when this game comes up Alabama and LSU fans get really pumped up.  All I have to say is, "Geaux Tigers! Beat Bama!"