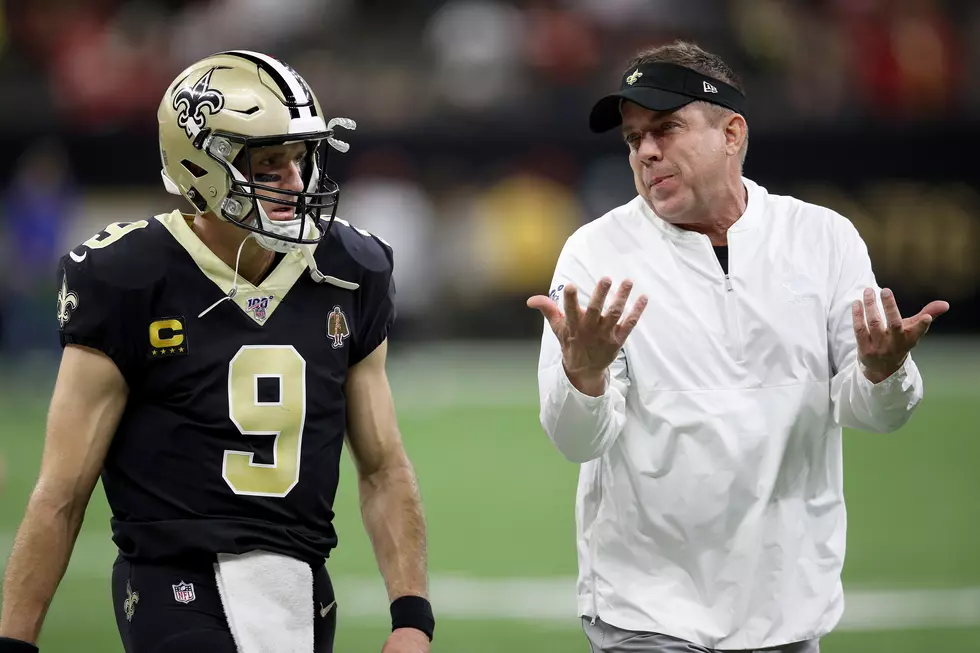 Is There Anything Left In The Arm Of Drew Brees?
Photo by Chris Graythen/Getty Images
Enter your number to get our free mobile app
OK, let me start by saying that I 100% hope there's something left in Drew Brees' arm. I want Drew Brees to ride off into the sunset in one last, classic, "Drew Brees season". But this question has been hovering around for a couple seasons, and last night it looked like THE ONLY question...is Drew's arm dead?
First, lets get the stats out there for everyone: yes, through two games, Brees' Yards Per Pass Attempt, or Y/A, is one of the lowest among starting quarterbacks in the NFL. His Y/A is currently at 6.9, which places him at 21st in the league. That's the same spot he would have ranked last year for a full season at that distance.
However last year Drew's Y/A was 7.9, which was Top 10 in the league.
But there's a noticeable trait that Drew has been lacking for the last two seasons for those watching the games...which is backed up by the NFL's "Next Gen Stats". Drew Brees doesn't throw the ball deep anymore.
Nola.com points out that Brees was last among qualified NFL quarterbacks in longest completed pass by air distance (42.8 yards) and ranked 36th out of 39 qualified quarterbacks in average air yards intended (6.7 yards). So its not just your eyes, the stats back up that Brees doesn't throw deep.
But now the question becomes, is it that Drew can't do it, or does New Orleans Head Coach Sean Payton not want Brees to do it? I'm not sure we'll ever get a straight answer from either of them, but until we do, we're left to speculate.
Unless of course we just see it start happening. Brees just starts ripping off 50 yard bombs again. I mean, the team went and got Emmanuel Sanders, they've got speed guys, they have Alvin Kamara in the backfield. They have the tools to do it on the roster, but do they have the heart?
I hope they do, because I want to see a few more Drew Brees bombs before he's done.
Hard to Pronounce Louisiana City & Street Names