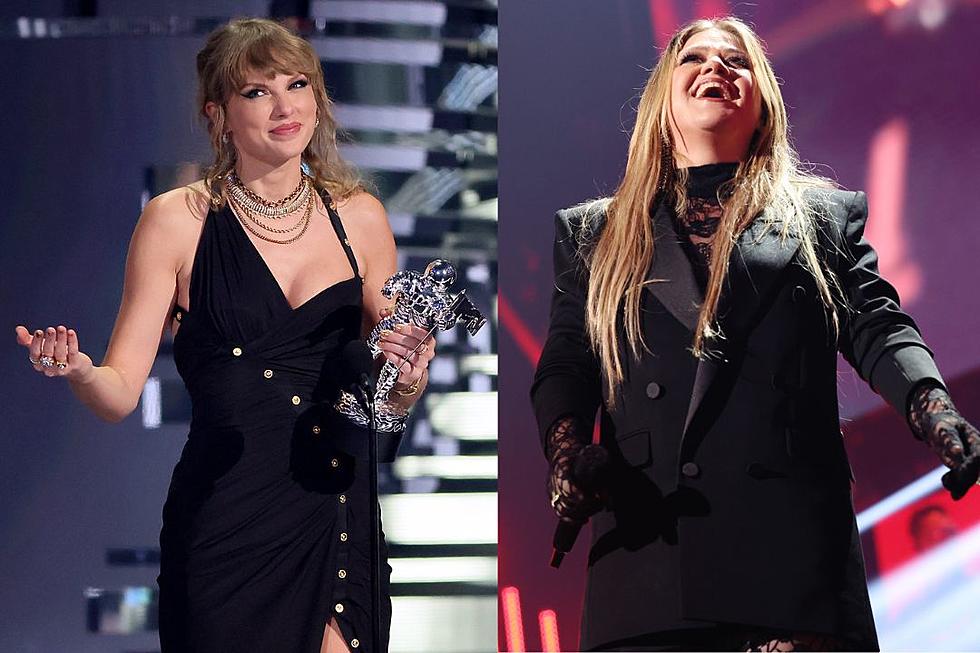 Why Taylor Swift Sends Kelly Clarkson Flowers After Each Album Re-Release
Monica Schipper, Theo Wargo , Getty Images
By now, you likely know the story behind Taylor Swift re-recording and re-releasing her old albums. And if you ask Swift where the idea came from, she will likely tell you it was Kelly Clarkson who suggested it.
If you ask Clarkson, she will humbly say that Swift would have done it on her own, and that she didn't put that idea into her head.
The truth is that Clarkson tweeted at Swift back in 2019, saying:
"@taylorswift13 just a thought, U should go in & re-record all the songs that U don't own the masters on exactly how U did them but put brand new art & some kind of incentive so fans will no longer buy the old versions."
Either way, Swift never forgot the support. During a recent episode of Clarkson's television talk show, the Kelly Clarkson Show, the pop star reveals that every time Swift releases a new Taylor's Version album — the re-cut, Swift-owned versions of her music —the megastar sends Clarkson a gift or flowers.
It's presumably a thank you note of sorts, and a sweet sentiment — Swift is well-known to send thoughtful gifts to fellow artists and influencers.
In 2021, pop star Olivia Rodrigo had this to say about a gift Swift had sent to her:
"She is absolutely the kindest individual in the whole world. Actually, last night, literally like 12 hours ago, I got a package from her with this like handwritten note. And she gave me this ring because she said she wore one just like it when she wrote Red and she wanted me to have one like it and all of this amazing stuff, she's like hand-wrapped these gifts."
The biggest mystery of all of this is, how the heck does Swift find the time to handwrite notes and hand-wrap gifts for all of these people? We know she has a large team behind her, so she doesn't have to do these things herself, but she continues to.
Maybe that's why she is one of the most popular artists of any generation, past, present and future. Swift's most recent new-old album drop was 1989 (Taylor's Version), which hit shelves Oct. 27. 2023. What remains: Reputation and Taylor Swift redos.
Evan Paul is the host of Taste of Country Nights, a syndicated radio show heard on more than 120 country radio stations nationwide, every night from 7PM to midnight. He plays the best new country music and interviews today's top stars, like Luke Combs, Miranda Lambert, Dan + Shay, Keith Urban, Carrie Underwood, Luke Bryan, Chris Stapleton, Lady A, Morgan Wallen, + more!
Pictures: Taylor Swift Watches Travis Kelce Score a Touchdown
Taylor Swift accepted NFL tight end Travis Kelce's invitation to attend his football game on Sunday (Sept. 24). His Kansas City Chiefs beat the Chicago Bears 41-10 in Kansas City. Swift was remarkably excited when Kelce scored a touchdown to make it 34-0.
Gallery Credit: Billy Dukes
Taylor Swift's 11 Best Country Collaborations, Ranked
It's no surprise that Taylor Swift's voice works so well in a country setting — it is her home genre, after all! From the Chicks to Chris Stapleton to Tim McGraw, Swift's country collaborations keep the genre close to her heart, no matter where else music takes her.
Gallery Credit: Carena Liptak
See Inside Kelly Clarkson's Spectacular New California Mansion
Kelly Clarkson has purchased a stunning new mansion in California, with the news breaking not long after the pop superstar and TV personality sold her palatial estate outside of Nashville.
Gallery Credit: Sterling Whitaker