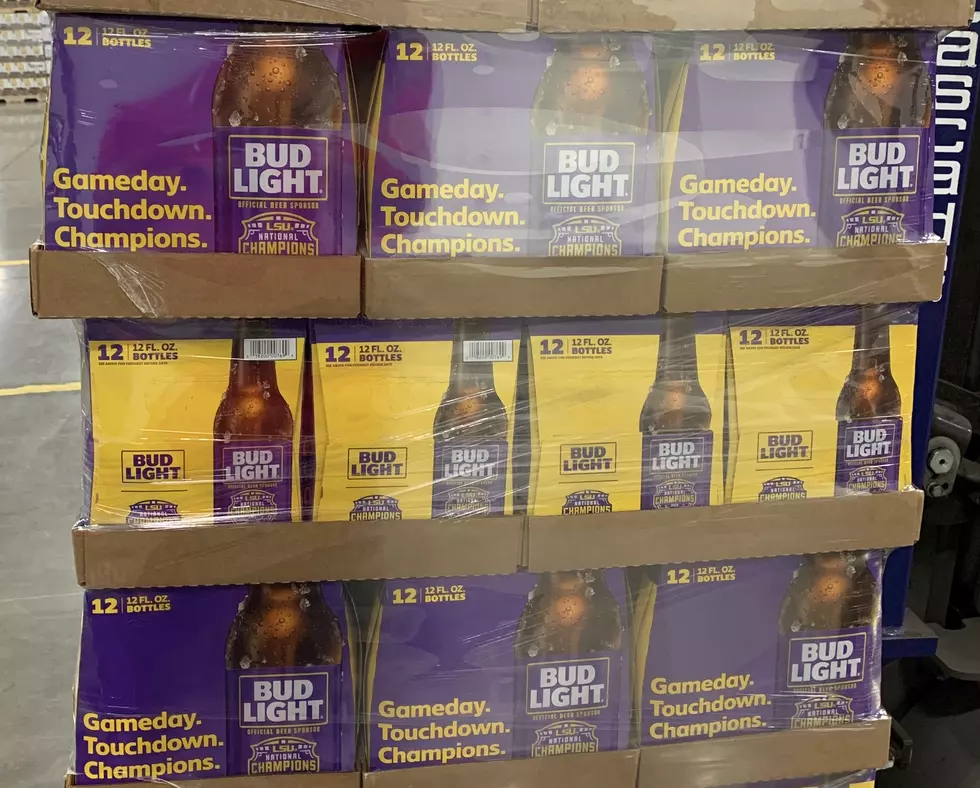 LSU National Championship Bottles Coming To Southwest Louisiana
Bud Light LSU Beer (photo provided to TSM by Brain B from Bud Light)
Anheuser Busch, makers of Bud Light beer has released some commemorative bottles celebrating the LSU Tigers football team's national championship title they won last season.
The Tigers went into the college football playoffs with the #1 seed and played Oklahoma in the semi-final game. The Tigers trounced the Sooners 63-28 to punch their ticket to the national championship game.
In the championship game, they faced the Clemson Tigers. LSU manhandled Clemson, beating them 42-25 to win the college football national championship for the first time since 2007.
Bud Light is celebrating the Tigers for the victory. Of course, Bud Light is the official beer sponsor of the LSU football team. The bottles boast a purple and gold label with the logo from the national championship game saying LSU National Champions on the label.
Some of the boxes the beer comes in are purple while some are gold. They come in a 12-pack of 12-ounce bottles. These are going to be highly sought after by LSU football fans, who will snatch them up as souvenirs. Of course, Tigers fans will drink them up too, because let's face it, this is Louisiana and we like beer, especially when it has our team's logo on it.
A source we have from Southwest Beverage here in Lake Charles says they have received a shipment of these commemorative bottles and plan to have them distributed to retailers in the Southwest Louisiana in the upcoming week or so.
So be on the look out for these awesome commemorative bottles and grab you a 12-pack. LSU will start their defense of the championship coming up on Saturday, September 28 when they face Mississippi State in Baton Rouge to kick off the 2020 football season.
Enter your number to get our free mobile app
Louisiana's Worst Hurricanes