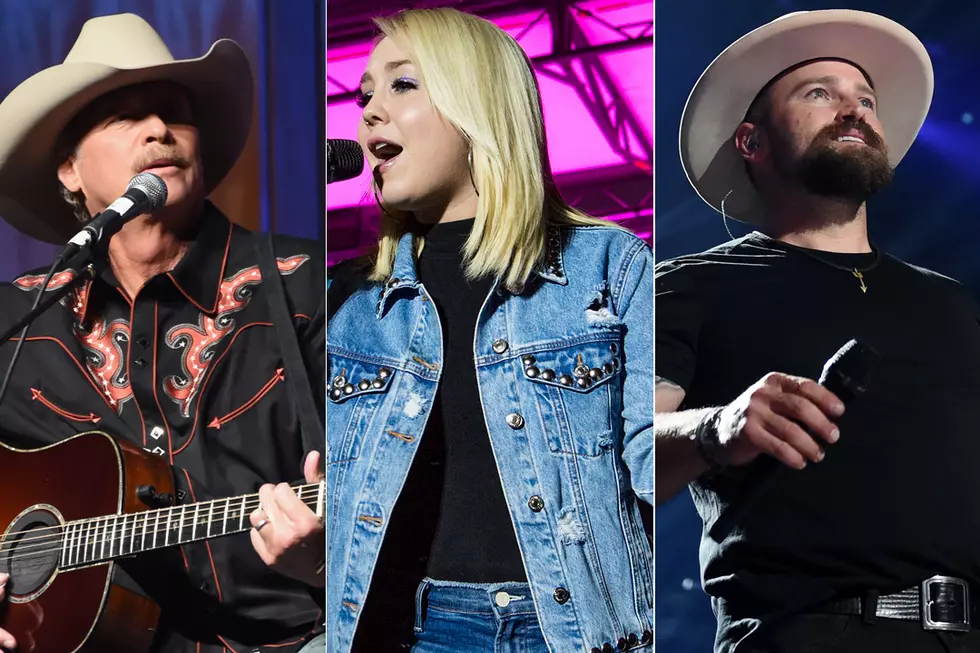 10 Songs That Deserved More in 2017
Rick Diamond / Ethan Miller / Erika Goldring, Getty Images
There are hits, and then there are songs that should have been. Country superstars, newcomers and legends make up this list of 10 songs that deserved more in 2017.
Great songs slip between the cracks every year, but this year's batch were particularly strong. Alan Jackson, Zac Brown Band and Montgomery Gentry are established hitmakers who released songs that didn't reach as many fans as they should have. Newcomers Lindsay Ell, Danielle Bradbery and Drake White also make our list for 2017.
What is a hit, anyway? The definition is slippery, as it can't be solely based on radio, streaming or sales success. A Top 20 song that tops the sales charts is absolutely a hit, while a Top 20 single that flamed out before it had a chance to become ubiquitous is eligible for this list. A fe —, like the current single from Bradbery — may reach their full potential in 2018.
1. Tucker Beathard, "Momma and Jesus" 
"Momma and Jesus" didn't crack the Top 40 before the shuttering of Tucker Beathard's BMLG imprint slashed the song's chances of becoming his second No. 1 single. The country-rocker could have been one of the Top Songs of 2017.
2. Zac Brown Band, "Roots" 
It's difficult to understand why this rich, hooky single from Welcome Home didn't perform at radio other than to guess that it was lost among a long list of record label priorities.
3. RaeLynn, "Love Triangle" 
"Love Triangle" had a viral country story that elicited strong emotions, but the tempo didn't ever seem to be a fit for radio. Perhaps more than any other single released by a female in 2017, this song exemplifies the struggles women are having. It's a great song.
4. Kristian Bush, "Sing Along" 
Kristian Bush's "Sing Along" is bittersweet love song that would have sounded great between any subgenre on country radio. The smartly-written heartbreaker barely cracked the charts and was his last solo release before Sugarland's reunion.
5. Drake White, "Makin' Me Look Good Again" 
Drake White's Top 30 hit is his definitive moment thus far, but few got a chance to hear this soulful love ballad. It's a brilliant performance that rattles your bones.
6. Montgomery Gentry, "Better Me" 
2018 could be the year for "Better Me," but one would have expected the single to resonate immediately after Troy Gentry's death. There was a little airplay, but not enough to properly tribute the loss of a great singer and a great man.
7. Lindsay Ell, "Waiting on You" 
A high-profile relationship may have ultimately doomed this single from Ell, which at No. 42 became her highest-charting song to date. "Waiting on You" was probably not going to be a No. 1, hit but was certainly deserving of the Top 20.
8. Michael Tyler, "They Can't See"
Michael Tyler is a new artist on an independent record label, but this well-written, pop-country love song fit perfectly with today's radio playlists. Maybe it would have taken a few lucky bounces for "They Can't See" to be a hit, but the song was worthy.
9. Alan Jackson, "The Older I Get" 
Jackson released this single just before his Country Music Hall of Fame induction, and while it will be included on an album in 2018, there hasn't been much of a promotional push this year. We'll give it some needed love here — the song also cracked the Top 10 on ToC's Best of 2017 list.
10. Danielle Bradbery, "Sway" 
It's just so good! The one-time NBC The Voice winner is back with new music, including this feel-good, soulful pop-country song. Listen and try not to "sway" with her. It's impossible.
See the 17 Undeniably Best Country Songs of 2017