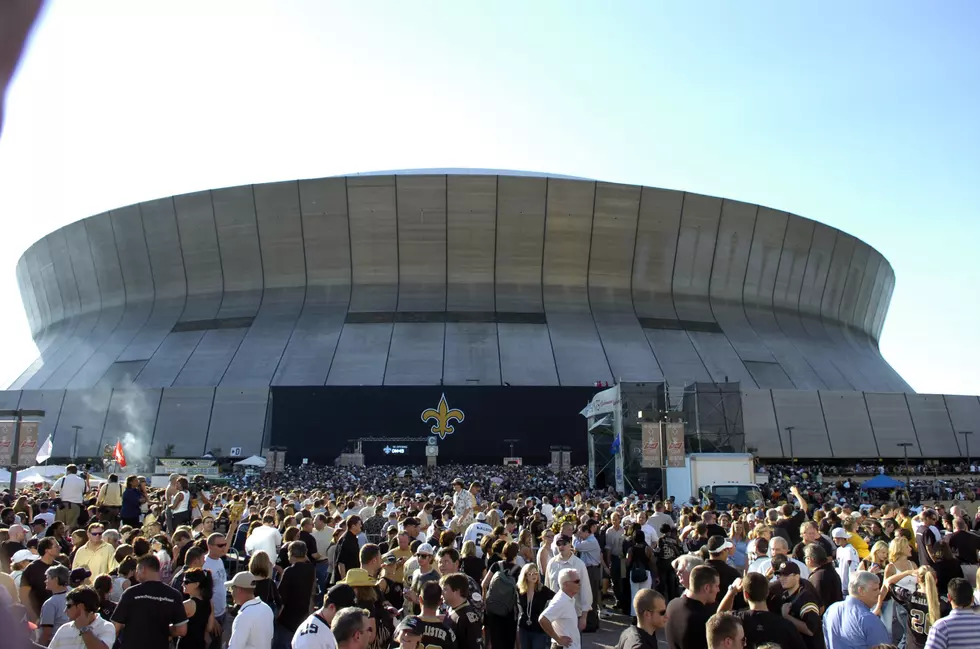 Superdome Looking for New Sponsor for 2021 Season
Getty Images
Who do you think would be a great sponsor for the Superdome in the future?  A Louisiana company maybe? Mercedes-Benz, the current Superdome sponsor, didn't renew their naming rights deal that runs out in 2021.
The building plans for the dome were first drawn up in 1965. The Louisiana Superdome was finally ready to be opened to the public in 1975. There have been several iconic moments held in the structure like Michael Jordan's 1982 NCAA championship-winning shot with the North Carolina Tar Heels, the largest indoor concert with the Rolling Stones in 1981, Muhammad Ali's 1978 heavyweight championship fight, and Pope John Paul II's papal address in 1987. Plus, if you're a Saints fan, the list goes on for miles.
One more note: the Superdome set a building attendance record in 2018 with WWE's WrestleMania event.
In 2011, Mercedes-Benz agreed to become the main sponsor of the dome with a 10 year deal worth between $50-$60 million.
Greg Bensel, Senior Vice President of Communications for the New Orleans Saints and Pelicans, had this to say in a press release about the sponsorship change:
The Superdome is one of the top leading economic engines in our state and region. As we enter the first phase of this new renovation, the building has proven capable over the last few decades to be able to adapt and easily re-engineer itself to keep up and in most cases lead in the landscape of new, high tech stadiums that have come online. And if you couple that with the NFL-leading television ratings that the Saints deliver, then you can see real tangible and quantifiable return on investment for a potential naming rights partner.
Currently, the Superdome is working on a $450 million renovation project to the structure.
Here's how that cost breaks down:
The Louisiana Stadium and Exposition District, the government entity which oversees the property, will pay roughly $200 million
The Saints will pay about $160 million
Louisiana state taxpayers will pay about $90 million
The renovations are planned to be finished before Super Bowl LVIII which will be played in the dome in February of 2024.
Enter your number to get our free mobile app
Mikey O's Favorite Saints Players