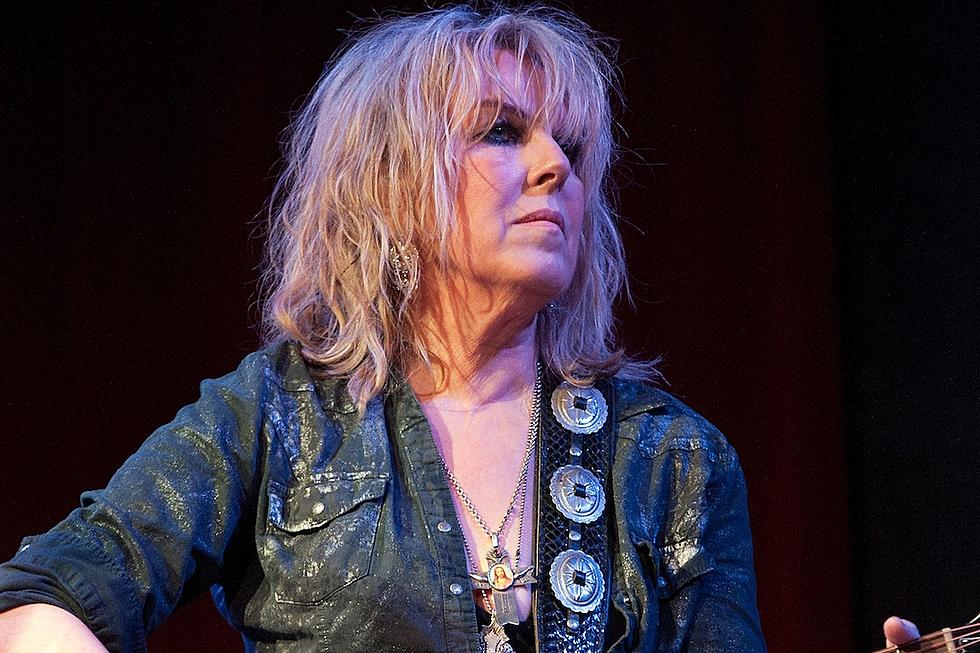 Top 10 Lucinda Williams Songs
Erika Goldring, Getty Images
The phrase "patience is a virtue" certainly applies to Lucinda Williams' career. The Louisiana native released her first album in 1979 (Ramblin'), but she didn't find widespread success until she released her self-titled 1988 album.
In turn, Lucinda Williams featured "Passionate Kisses," which hit it big in 1993, once Mary Chapin Carpenter covered it. Five years after that, Williams finally became a household name with the alt-country touchstone Car Wheels on a Gravel Road.
Since then, Williams has released a steady string of albums and remained a critical darling and Americana pillar. It's tough to narrow down her catalog — an honorable mention for this list goes to "Changed the Locks," a song Tom Petty covered on Songs and Music From She's the One — but below, The Boot counts down Williams' Top 10 songs.
10

"Get Right With God"

From 'Essence' (2001)

A deceptively low-key, country-flecked number, "Get Right With God" seems like a rather self-explanatory song. The protagonist is willing to make sacrifices to "get right with God" and go to heaven ("I would risk the serpent's bite / I would dance around with seven / I would kiss the diamond back"). The underlying message, however, is that this faith is less about deep-seated belief and more about surface action — which means the song can be read as a subtle criticism of modern religion. "Get Right With God" nabbed Williams a Best Female Rock Vocal Performance Grammys trophy in 2002.

9

"Sweet Old World"

From 'Sweet Old World' (1992)

The string-dusted title track of Williams' 1992 album urges those struggling to hold on and think about what they might miss if they depart this mortal coil: "A sweet and tender kiss / The sound of a midnight train, wearing someone's ring." To mark Sweet Old World's 25th anniversary, Williams released a live re-recording of the album.

8

"World Without Tears"

From 'World Without Tears' (2003)

Williams' gorgeous, emotion-trembled voice takes center stage on the title track of her 2003 album. A low-lit slow dance with a waltzing tempo and smoldering riffs, the song illuminates that sorrow is an unfortunate part of life.

"If we lived in a world without tears," Williams sings, "How would misery know which back door to walk through?"

7

"Righteously"

From 'World Without Tears' (2003)

In a sense, "Righteously" is a sophisticated update of "Passionate Kisses." The slow-burning, searing blues riffs convey the main character's stance that she deserves desire and respect ("Be the man you ought to tenderly / Stand up for me") and that her man simply needs to love her, not impress her: "You don't have to prove / Your manhood to me constantly," Williams sings.

6

"Car Wheels on a Gravel Road"

From 'Car Wheels on a Gravel Road' (1998)

The easygoing title track of Williams' mainstream breakthrough is a vivid recollection of childhood — Loretta Lynn and Hank Williams on the radio, a road trip with "cotton fields stretching miles and miles" — that captures a poignant snapshot of time. Nostalgic without romanticizing the past, "Car Wheels on a Gravel Road" demonstrates Williams' keen observational eye, and her ability to cut right to the emotional quick. No wonder Car Wheels on a Gravel Road took home Best Contemporary Folk Album at the Grammy Awards in 1999.

5

"I Just Wanted to See You So Bad"

From 'Lucinda Williams' (1988)

Williams' 1988 self-titled record — an Americana touchstone — kicks off with this upbeat, organ-swirled song. After starting off rather innocuously ("I drove my car in the middle of the night / I just wanted to see you so bad"), the brisk, twangy song evolves into something more like obsession: "We'd always talked on the telephone / But I'd never been with you all alone," Williams casually sings, before letting it slip that the visit is perhaps a surprise. "I got off on the seventh floor, I just wanted to see you so bad."

Emmylou Harris and Rodney Crowell have notably covered this song in recent years.

4

"Joy"

From 'Car Wheels on a Gravel Road' (1998)

Car Wheels on a Gravel Road contains a multitude of moods. In fact, the fiery "Joy" turns the tables on despair, and takes a rebellious stance toward sadness.

"I don't want you anymore, 'cause you took my joy," Williams says, a snarl in her voice matching angry guitar squeals. "You got no right to take my joy/I want it back."

3

"Honey Bee"

From 'Little Honey' (2008)

This fuzzed-out number quickly became a staple of Williams' live sets, and it's easy to see why: Raucous blues-twang riffs and a stomping tempo pair with one of her most ferocious vocal performances — a match for the song's charged lyrics, which take the form of a poetic comparison between a stinging bee and a sexual relationship.

2

"Can't Let Go"

From 'Car Wheels on a Gravel Road' (1998)

Produced by E Street Band member Roy Bittan, Car Wheels on a Gravel Road redefined what alt-country could be — and sound like. Then again, perhaps it's more correct to say that people finally warmed up to what Williams had been doing all along. "Can't Let Go," a chronicle of the bittersweet experience of hanging onto a failed (or failing) romance, is a Texas roadhouse barn-burner, with charred licks and vocals that convey equal parts anguish and defiance.

1

"Passionate Kisses"

From 'Lucinda Williams' (1988)

Mary Chapin Carpenter famously took "Passionate Kisses" to No. 4 on the Billboard Hot Country Singles & Tracks chart in 1993 and won Best Female Country Vocal Performance at the Grammy Awards for her take on this song; however, Williams also won the Best Country Song Grammys trophy for writing the jangly tune, which was originally released in 1988. It's easy to see the song's appeal: It's a modern-day feminist anthem about having it all — a comfortable bed, food, a rock band and passionate kisses.

"I shout it out to the night," Williams declares. "Give me what I deserve 'cause it's my right."