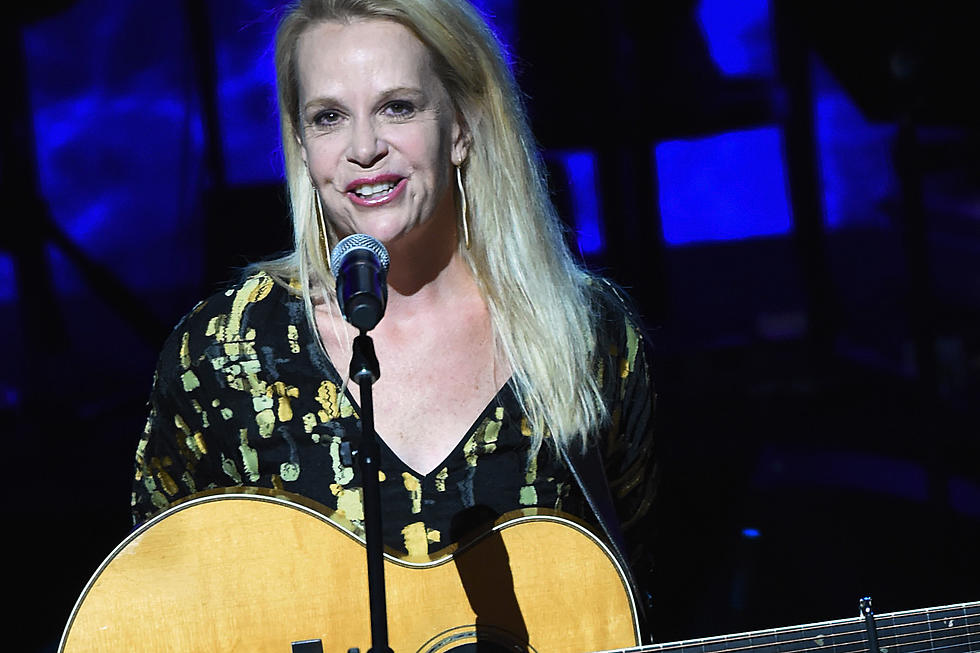 Top 10 Mary Chapin Carpenter Songs
Rick Diamond, Getty Images
Mary Chapin Carpenter's first label didn't promote her as a country artist right away. But once they started doing so, they were sure glad they did: The New Jersey native dominated the genre charts in the late 1980s and into the '90s, thanks to a streak of records that featured insightful reflections on love, politics and the human condition.
During her career, Carpenter has racked up five Grammy Awards and two CMA Awards (including the prestigious Female Vocalist of the Year award two years in a row in the early '90s), and continues to keep a busy touring and recording schedule. Her most recent album, One Night Lonely (Live), was released in 2021.
The following are The Boot's picks for the Top 10 Mary Chapin Carpenter songs:
10

"Soul Companion"

From 2012's 'Ashes and Roses'

Carpenter loves collaborating; look no further than her 1992 Joe Diffie duet, "Not Too Much to Ask," and the singing supergroup the Four Voices. The low-key folk-rocker "Soul Companion" is yet another collaboration gem, as it features James Taylor adding his inimitable croon to the chorus and select verses. Together, the musicians craft a sweet and heart-swelling song about staying optimistic that you'll one day find true love.

9

"I Put My Ring Back On"

From 2010's 'The Age of Miracles'

As its name implies, "I Put My Ring Back On" is a declaration of fidelity. However, this gritty tune underscores that the gesture came after much deliberation: "We both know how hard this love can be," Carpenter sings. "It's just this hurting inside of me that threw it down." Her voice is determined but tender, as the lyrics go on detail exactly why she wants to stay together: "Your heart is all I want to see / Your hand reaching out to me."

8

"Let Me Into Your Heart"

From 1996's 'A Place in the World'

Musically, this Motown-flavored tune, which boasts horns and a funky groove, shows off Carpenter's soulful side. Lyrically, however, "Let Me Into Your Heart" is a classic Carpenter bright-side tune, in which she implores someone to "let me into your heart" and butters them up for good measure: "You're like a sweet sight to these tired eyes / You're like the first light after a long night."

7

"Never Had It So Good"

From 1989's 'State of the Heart'

Carpenter excels at writing about the nuances of romantic relationships. Her first Top 10 Billboard country singles chart hit, "Never Had It So Good," is particularly insightful. Written from the perspective of a scorned woman whose boyfriend has just gone back to an ex, the song exudes resignation and hurt; however, at the very end, there's an intriguing twist: "But when she burns you again / And your phone doesn't ring / Baby, it's me." Does that mean the protagonist gave the new girlfriend some breakup-inducing intel? Or is Carpenter simply saying that bad karma comes around? The ambiguity makes "Never Had It So Good" even better.

6

"Stones in the Road"

From 1994's 'Stones in the Road'

Incredibly, the double-platinum Stones in the Road is Carpenter's only album to hit No. 1 on the country charts. Not coincidentally, the record also has some of her most moving songs. The title track uses the metaphor of a stone in the road to illustrate how our perception of the world changes as we grow up ... and it's not exactly positive: The politics-tinged lyrics detail how youthful empathy and curiosity often give way to selfishness and ruthlessness, as adults forget the compassion they were taught as kids. Sparse piano and simple acoustic guitar ensure that these pointed messages are unmistakably clear.

5

"Down at the Twist and Shout"

From 1990's 'Shooting Straight in the Dark'

Sometimes all you want to do on a weekend is to let loose and go dancing. That's the premise of this Cajun- and Zydeco-influenced No. 2 country hit, which daydreams about escaping to cities such as New Orleans: "Never have drifted down a bayou stream / But I heard that music on the radio / And I swore some day I was going to go." The rollicking tempo and instrumentation (including prominent accordion and fiddle) make "Down at the Twist and Shout" a guaranteed dance floor igniter.

4

"I Feel Lucky"

From 1992's 'Come on Come On'

The first hit from the blockbuster Come on Come On is a kicky song about not letting anything potentially ominous (bad horoscopes, a thunderstorm) ruin your good mood; in fact, the protagonist of this song is so sure she's going to win the lottery that she calls in sick to work and starts spending beyond her means at a bar she imagines is full of luminaries vying for her attention. "Dwight Yoakam's in the corner trying to catch my eye," Carpenter sings with a wink. "Lyle Lovett's right beside me with his hand upon my thigh."

3

"Shut Up and Kiss Me"

From 1994's Stones in the Road'

Carpenter's only No. 1 Billboard singles chart hit is all about the exhilarating feeling you gets when you've unexpectedly forged a romantic connection. "It's been too long since somebody whispered, 'Shut up and kiss me' / Didn't expect to be in this position." Appropriately, the song boasts a twirling honky-tonk groove with bar-band piano and a playful edge -- the sonic equivalent of shedding a jaded veneer and letting your hair down.

2

"Passionate Kisses"

From 1992's 'Come on Come On'

Carpenter famously took "Passionate Kisses" to No. 4 on the Billboard Hot Country Singles & Tracks chart in 1993 and won Best Female Country Vocal Performance at the Grammy Awards for her take on Lucinda Williams' jangly tune, which was originally released in 1988. It's easy to see the song's appeal: It's a modern-day feminist anthem about having it all — a comfortable bed, food, a rock band and passionate kisses. "I shout it out to the night," the song declares. "Give me what I deserve 'cause it's my right."

1

"He Thinks He'll Keep Her"

From 1992's 'Come on Come On'

This brisk, ringing 1993 hit feels like a corollary to Loretta Lynn's "The Pill." The narrative of "He Thinks He'll Keep Her" focuses on a woman who decides to step out on her own after spending years raising kids and subjugating her desires to her husband's wants and needs. Although things are different now — "For 15 years she had a job and not one raise in pay / Now she's in the typing pool at minimum wage" — the song's insinuation is that this economic and personal freedom means more than staying in an unhappy marriage.