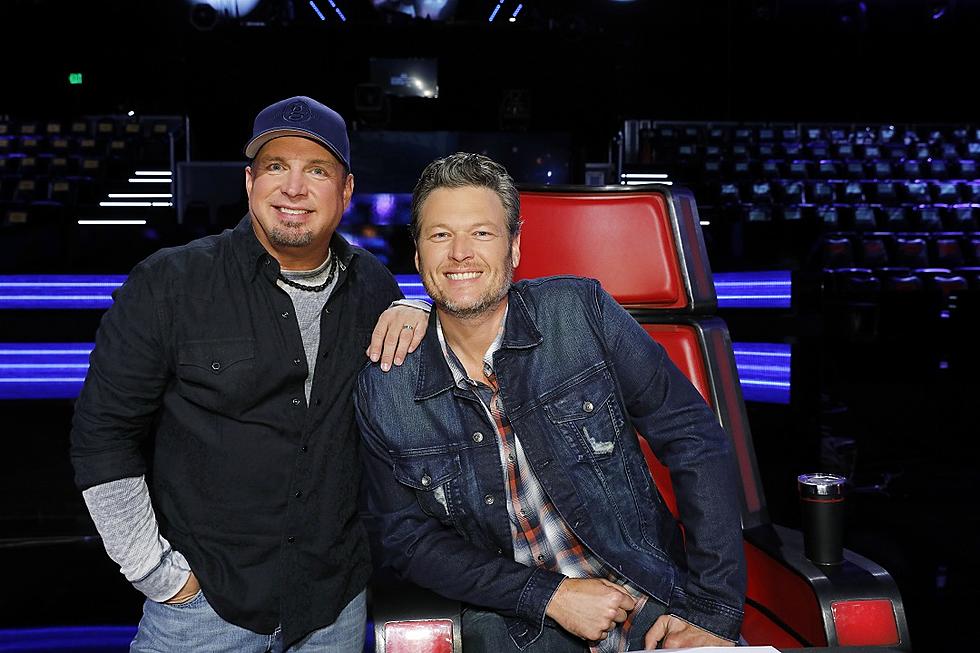 Garth Brooks and Blake Shelton Are Releasing a Duet
Trae Patton, NBCU Photo Bank / Getty Images
Garth Brooks and Blake Shelton are teaming up for a new song! Brooks has revealed that the pair will release a duet called "Dive Bar" in mid-June.
According to Entertainment Tonight, Brooks and Shelton's "Dive Bar" is due to hit country radio on June 18; a press release adds that the pair will also debut the song -- which Brooks co-wrote with Mitch Rossell and Bryan Kennedy -- at Brooks' July 19 show in Boise, Idaho. The song, according to Brooks, "just talks about spending your summers in the dive bars across America, and it's going to be fun."
Brooks tells ET that recording "Dive Bar" -- which he calls "a good old summertime anthem" -- "was fun." The two Oklahoma-born country stars were in the studio together, and Brooks admits that during the recording process, "sometimes I didn't know if it was me or him, because we're basically raised around the same area, so it was pretty cool."
Brooks and Shelton previously worked together on The Voice back in 2016. Brooks was an advisor during the TV singing competition's 11th season. Brooks is from Tulsa, while Shelton grew up about three hours south, in Tishomingo.
Both Brooks and Shelton have been working on new music as of late. Brooks has been teasing a new album called Fun since early 2019, while Shelton recently released a new single, "God's Country." However, Shelton has said he's not sure when his next album will be out -- or even if he'll release another full-length project.
Shelton is also keeping busy with his coaching role on The Voice, which is entering its 17th season. Brooks, meanwhile, is on the road for his Stadium Tour, which began earlier this year.
Garth Brooks' Best Live Shots
Test Your Garth Brooks Knowledge!