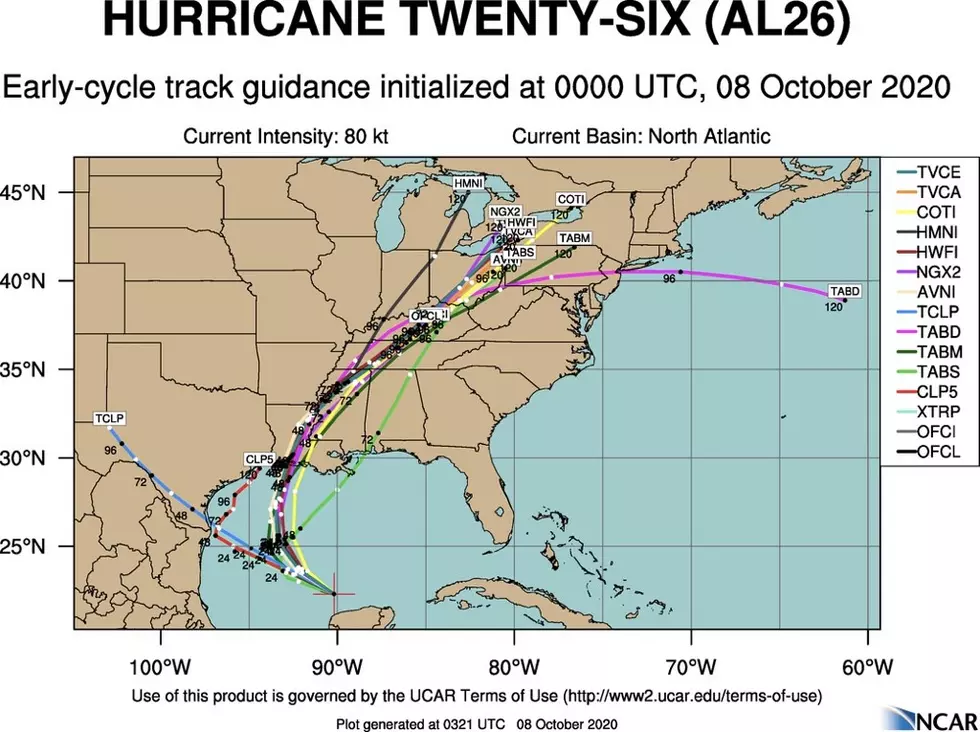 Latest Arrival Time & Details of Hurricane Delta as of 10 PM CDT
NCAR
As of 10 p. m. CDT Wednesday, October 7, 2020, Hurricane Delta is strengthening while moving over the south-central Gulf of Mexico. Delta's strengthening is not a surprise. Forecasters at the National Hurricane Center predicted an increase in the storms intensity before colliding with gulf stream wind shear and cooler water which willl ultimately decrease Delta's wind speeds.
Hurricane Delta has been downgraded to a Category 1 hurricane for now, although restrengthening is expected. The storm is located at 22.5N 90.9W or about 525 miles south-southeast of Cameron, Louisiana. Maximum sustained winds are 90 mph and extend outward from the center nearly 40 miles. Movement is west-northwest at 17 mph. Minimum central pressure is 972 MB.
Hurricane Delta is expected to come ashore over Vermillion Parish Friday afternoon or early Friday evening (in approximately 48 hours) as a Catagory 2 hurricane. A peak storm surge of 7-11 feet is expected near and east of the center across Vermillion, St. Mary and Terrebonne Parishes.
Stay informed before during and after the storm with the KTDY mobile app.
Enter your number to get our free mobile app
You Know You're From Louisiana