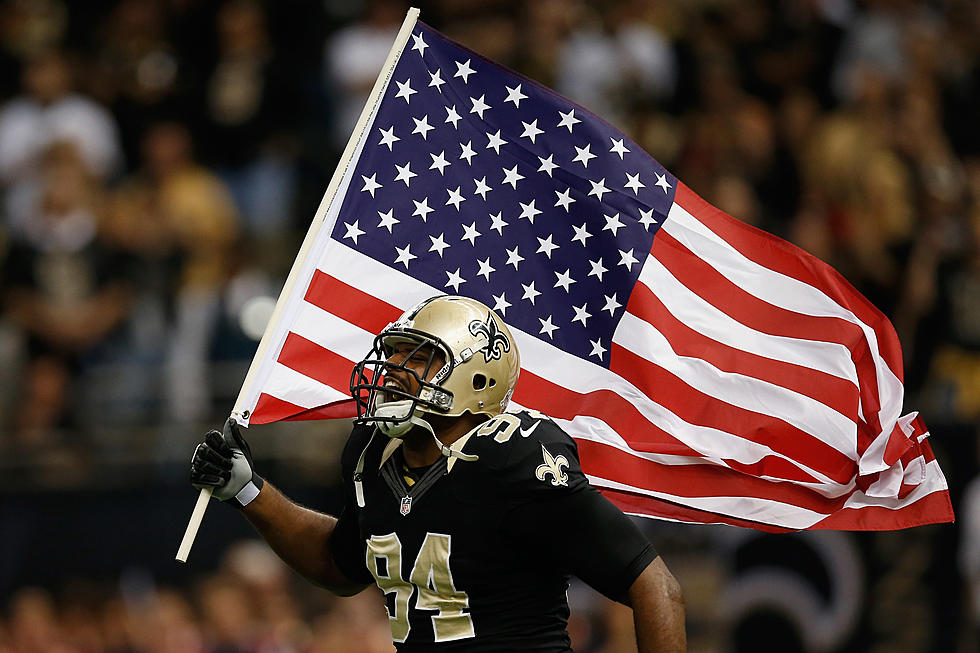 New Orleans Saints Mock Draft Scores Several Day One Starters
Chris Graythen, Getty Images
The NFL Draft is tomorrow and the Who Dat Nation is all on pins and needles waiting to hear the selections of new head coach Dennis Allen and GM Mickey Loomis.
One of the things I love to do leading up to the NFL Draft is playing General Manager. There are many websites that let you run through your very own NFL Draft. My favorite site is Pro Football Focus (PFF). The interface is so easy to use and their drafting algorithm is awesome, and it feels like the teams before and after would actually pick the players they do based on team needs.
The New Orleans Saints have many needs this offseason to address in the NFL Draft to make another run for the playoffs. The quarterback question was answered as we signed Jameis Winston to a two-year contract. However, he still needs more weapons on offense and his blindside tackle, Terron Armstead, is taking his talents to South Beach.
Overall, Pro Football Focus rated my draft a B+, but I think that is highly underrated as I was able to snag several game one starters. I was able to trade down with the Patriots to draft a day one starting cornerback at pick #54 and more depth on our offensive line with pick #127.
PFF has LT Trevor Penning as a B- with the 19th pick.  They rated him as the 35th best player in the draft. We've all seen the footage from the Senior Bowl practices. This guy is a legit monster. He was tossing around defensive linemen from larger universities who were supposed to be more talented than him.  Is his technique perfect? No. But he's talented, he has a mean streak, and he's out to prove everyone wrong.  That's a great combination.  In my opinion, this pick was not a stretch and he will fit in perfectly with the Saints.
Pro Football Focus' evaluation of Chris Olave:
One of the best route-runners in college football, Olave is one of the most consistent downfield threats in the class. In total, 13 of his 65 catches ended in scores last season.

 
Pro Football Focus' evaluation of Trevor Penning:
Penning is yet another uber-physical run-blocker at the position. The 6-foot-7, 321-pounder moves people with ease. His 99.9 run-blocking grade - albeit against mainly FCS competition - is the highest we've ever charted.

 
Pro Football Focus' evaluation of Roger McCreary:
McCreary is an ultra-smooth cornerback who rarely cedes much separation. He was battle-tested with 75 targets but allowed only 34 catches while mixing in 13 pass breakups. His lack of length is concerning if he wants to stick on the outside.

 
Pro Football Focus' evaluation of Jeremy Ruckert:
Ruckert is arguably the best blocking tight end in the draft class and has uber-reliable ball skills. He dropped only two passes on 56 catchable targets in his college career.

 
Pro Football Focus' evaluation of Bailey Zappe:
Zappe broke the FBS passing yardage (5,940) and touchdown (62) records in 2021. He can operate a high-volume passing offense, but can he handle NFL pressure? Zappe was pressured on an FBS-low 12.9% of his dropbacks in 2021.

 
Pro Football Focus' evaluation of Braxton Jones:
Jones put up dominant tape at Southern Utah en route to a 93.9 overall grade. He combines an egregiously long wingspan with some legit explosiveness off the line.

 
Pro Football Focus' evaluation of JT Woods:
Highest-graded games:
90.5 (@ Ole Miss, 2021)
78.2 (vs Kansas, 2018)
72.4 (@ West Virginia, 2020)
Pro Football Focus' evaluation of Brian Robinson JR:
Robinson is the top short-yardage bruiser in the draft class. After sitting behind Najee Harris for four years, he broke out with 1,343 yards and 14 scores last season.

 
I believe in this mock draft we selected four game one starters:
WR - Chris Olave
LT - Trevor Penning
CB - Roger McCreary
TE - Jeremy Ruckert
The biggest steal in our mock draft, in my opinion, was the 6th-round selection of Brian Robinson JR. This guy is a bruiser and he has very low miles (only starting as a 5th-year senior). He'll split time with Mark Ingram until Alvin Kamara returns from his suspension and then allow the team to either trade or cut Ingram.
I'm so intrigued by Bailey Zappe. Having the same build as Drew Brees and breaking NCAA records last season, I had to pull the trigger and select him in the 4th round. Our offense is designed for a shorter QB focusing on short to mid-range throws. I believe that Zappe could mature into our starting quarterback in two years or at least become the best backup QB in the NFL.
When you look at the tape of Braxton Jones, one thing shows up time and time again. This guy can hold his own against edge rushers from larger universities. He's very light on his feet when pass blocking and very heavy-handed when he's run blocking. I think he has the skill set to play both LT and RT in the NFL. Southern Utah found a gem when recruiting him, I don't know how other bigger schools didn't find this guy.
Safety JT Woods is a proven playmaker at Baylor with tons of starting experience. With the drafting of McCreary, that frees up Gardner-Johnson to play safety for the departed Malcolm Jenkins and Paulson Adebo to play Nickel. Woods would add much-needed depth to the safety position and could become an eventual starter if we can't resign Ceedy Deuce this season.
Mikey O's Favorite Saints Players
Louisiana Capitals of the World