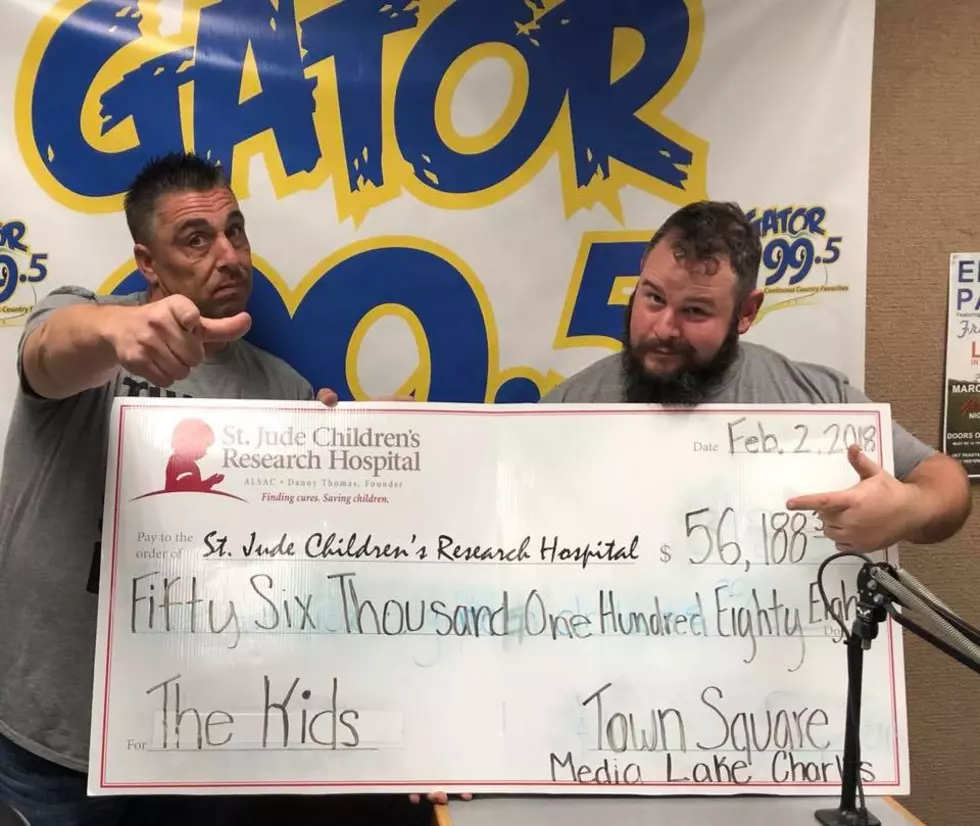 Thank You For Helping Us Help St. Jude
Mike Soileau and Your Buddy Russ --St Jude total
Last Thursday and Friday February 1st and 2nd, Gator 99.5 went live for 13 hours each day for our annual St. Jude Country Cares Radiothon.
Your Buddy Russ and Mike Soileau along with Ryan Keith took to the airways raising money for the kids at St. Jude fighting for their lives with childhood cancer.
We have to say you showed up big time Southwest Louisiana and Southeast Texas!  With your help and the help of local businesses in the area, we raised a staggering amount of money for St. Jude.  To be exact we raised $56,188 in the two days.
But we didn't stop there.  We had our big game party yesterday at Walkons in Lake Charles.  We had a bunch of prizes donated by Southwest Beverage Bud and Bud Light.
We gave everyone raffle tickets to enter to win some great stuff and they had the opportunity to buy extra tickets for 50 cents each to enhance there chances of winning. All the extra money that was paid buy our listeners also went to St. Jude.
We raised an additional $662.00 during our Big Game Party last night. So when we combine he both together, we raised a total of $56,850! 
We would like to thanks each and everyone of you for helping us help St. Jude.