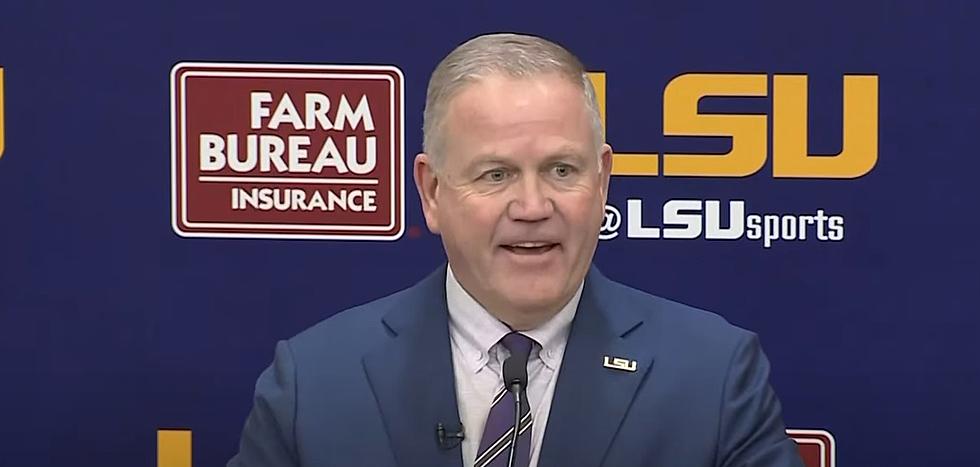 The Insane Perks In Brian Kelly's LSU Football Contract
Via CBS Sports HQ YouTube
LSU has literally thrown the kitchen sink at Brian Kelly to get him down to the bayou.
Kelly is the winningest football coach in Notre Dame's history. That says a lot when you think about the hall of fame coaches and legendary names that have been at Notre Dame.
He's a proven winner with a head coaching record of 263-96-2 and that's why LSU broke out the check book and paid him a base salary of $9.5 million a year. Kelly's total base contract is worth $95 million over 10 years. That $9.5 million also grows every year he's the coach and will be worth $10 million a year in 2031.
Even though that is a ton of cash, the perks that LSU included in the contract are insane to say the least.
The Insane Contract Perks being reported:
$75K for the SEC Championship Game OR $150K for winning it
$500K "Longevity bonus" annually
$500K for being bowl eligible, Plus
$100K for a NY6 Bowl appearance OR
$200K for a Playoff appearance OR
$300K for a National Title appearance OR
$500K for winning it all
$50K for SEC Coach of the year
$75K for National Coach of the Year
Additional academic achievement bonuses of $25K each
Two courtesy vehicles and two vehicle allowances of $1,000 a month
Interest free home loan of 20% of the home price up to $1.2M
50 hours per year of private jet time on LSU's jets
Look, if that isn't the kitchen sink I don't know what is. Not listed above is the perk that LSU is going to pay all his moving and relocation fees.
Kelly will make $500K just for continuing to do the job he signed up for. The average American makes around $51,000 a year. So it would take the average American around 10 years to make what Coach Kelly will make in one year just for sticking around and coaching the following season. That is insane!
I want to see Coach Kelly on an episode of MTV Cribs after he gets settled in Baton Rouge. I mean a $1.2 million home loan interest free, 2 free cars, and $1,000 a month for another car of his choosing. He's gonna have a boss crib and tons of whips in front to show off.
30 famous people you might not know were college athletes
Stacker
dug deep to find 30 celebrities who were previously college athletes. There are musicians, politicians, actors, writers, and reality TV stars. For some, an athletic career was a real, promising possibility that ultimately faded away due to injury or an alternate calling. Others scrapped their way onto a team and simply played for fun and the love of the sport. Read on to find out if your favorite actor, singer, or politician once sported a university jersey.