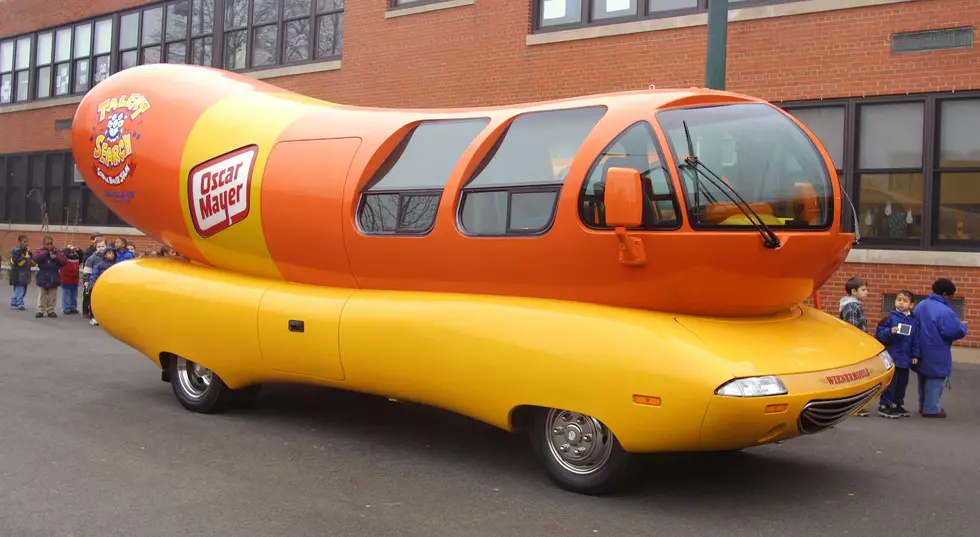 The Weinermobile is Coming to Lake Charles!
Getty Images
I am 35 years old, a GIANT fan of hot dogs, and I have NEVER seen the Oscar Mayer Weinermobile. I saw a glimpse of it the day we handed out hot dogs on I-10. It drove by headed West. I felt it was a good omen to be handing out hotdogs that day because of it.
Originally thought up by Carl Meyer as a marketing idea. The first mobile was built and driven around the streets of Chicago handing out free wieners to on lookers in shock at the whimsical wiener.
It went away, after the public lost interest in the 60s and 70s, but in 1986, they brought it back for their 50th anniversary. It was such a hit, they ordered 6 new models for 1988. Currently, there are 12 on the road and driving at any given time. The company receives 1000-1500 applications annually (I applied last year as a matter of fact). Drivers go through 40 hours of training at Hot Dog High, and are assigned a region across the nation.
Guess what dear reader! It's coming to Lake Charles. Sunday May 13 from 11am - 4pm, the Weinermobile will be at Market Basket on Lake Street in Lake Charles!!!
I cannot tell you how excited I am to see it. Can you get star struck from a vehicle? We will soon find out!!!!!