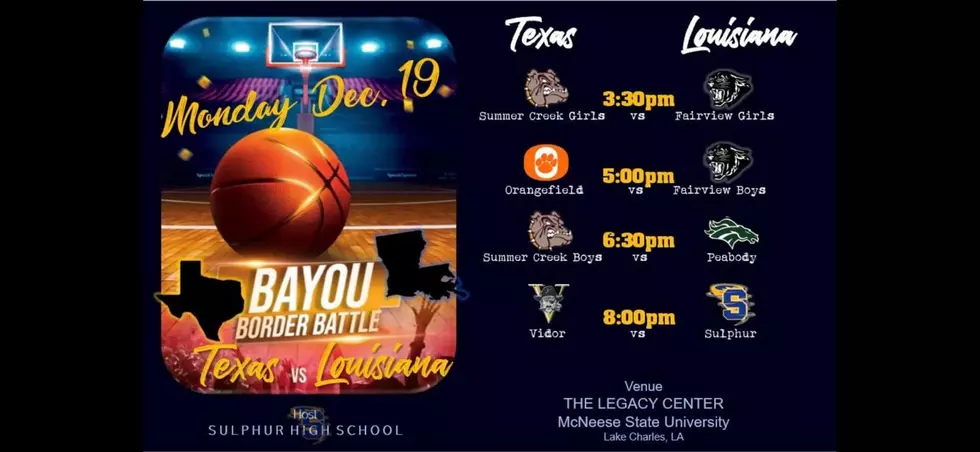 Bayou Border Battle 'Texas Versus Louisiana' In Lake Charles Dec 19 & 20
Sulphur High School
If you are already off for the holidays and are looking for something fun to do, then you should head over and check out this event.
It's called the Bayou Border battle and it is going on today and tomorrow here in Lake Charles. The event features the best high school basketball teams from Texas taking on the best high school basketball teams in Louisiana.
The event is billed as the Bayou Border Battle and is taking place inside the Legacy Center on the campus of McNeese State University.
Bayou Border Battle hosted by Sulphur High Golden Tornado Basketball at the beautiful Legacy Center on McNeese State University campus: According to Sulphur High School basketball coach,
The 2-day event starts at 3:30 on Monday, Dec 19th and 12:00 on Tuesday, Dec 20th with the finale being Louisiana 5A state champs Zachary High vs Texas 5A state champs Beaumont United. There is a $10 admission and it is good for the entire day (NO clearing of the gym).
There are four games slated for today starting at 3:30 pm and then six games on the schedule for Tuesday starting at noon.
Some of the local Southwest Louisiana teams scheduled to be in action are the Barbe Boys and girls teams, Vinton, Sulphur, and Fairview just to name a few of the local teams in action.
There will be hot food and cold drinks sold at the concession stand on both days. This is a family-friendly event and a cool event to go watch and see with your kids or any high school sports fan.
Louisiana Foods For Game Day