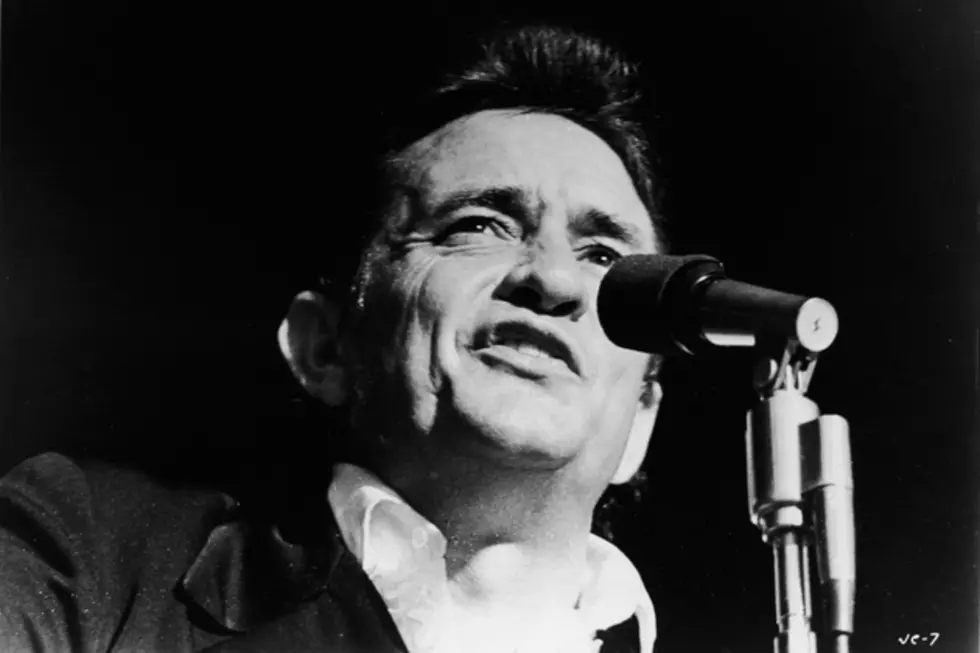 55 Years Ago: Johnny Cash Plays Folsom Prison
Hulton Archive, Getty Images
Fifty-five years ago today, on Jan. 13, 1968, Johnny Cash played a concert at California's Folsom Prison. The show was recorded for his At Folsom Prison live album.
By the time Cash recorded his Folsom Prison live album, he had been performing at prisons for several years, after having his own run-ins with the law, mostly due to drugs. The country icon was joined for this live album recording by frequent performance companions June Carter (not yet his wife), the Carter Family, Carl Perkins and the Statler Brothers.
"One thing he liked about playing prisons: If he did something the audience didn't like, they couldn't leave," W.S. "Fluke" Holland, Cash's drummer at the time, told NPR in a piece commemorating the 50th anniversary of Cash's Folsom Prison show.
At Folsom Prison includes a live version of Cash's previous single, "Folsom Prison Blues," which became a No. 1 hit after the live recording was released as a single. The song, which was originally written and recorded in 1955, was first featured on Cash's debut album, With His Hot and Blue Guitar.
"[I was] trying to think of the worst reason for killing another person," Cash said of the song's controversial lyric "I shot a man in Reno / Just to watch him die," adding, "It did come to mind quite easily, though."
The live version of "Folsom Prison Blues" stayed at the top of the charts for four weeks and is largely credited with reviving the Man in Black's career; until that time, Cash had failed to have a No. 1 hit since topping the charts in 1964 with "Understand Your Man." Other well-known songs on At Folsom Prison include "Cocaine Blues," "The Long Black Veil," "Green, Green Grass of Home" and "Jackson," the latter of which is a duet with Carter.
In addition to being a career highlight, this Folsom Prison performance also steered Cash's life outside of music. The following year saw him release another live album, At San Quentin, while his daughter, Tara Cash Schwoebel, points out to NPR that her dad continued performing at prisons and using his platform to advocate for the incarcerated.
"I think it really spoke to his rebellious side," she says. "He really had a passion for standing up for these people who were locked up, you know, and treated so poorly."
The At Folsom Prison album is available for purchase on Amazon.
This story was originally written by Gayle Thompson, and revised by Annie Zaleski. 
See Photos From Johnny Cash's Prison Concerts:
WATCH: Unforgettable Johnny Cash Moments