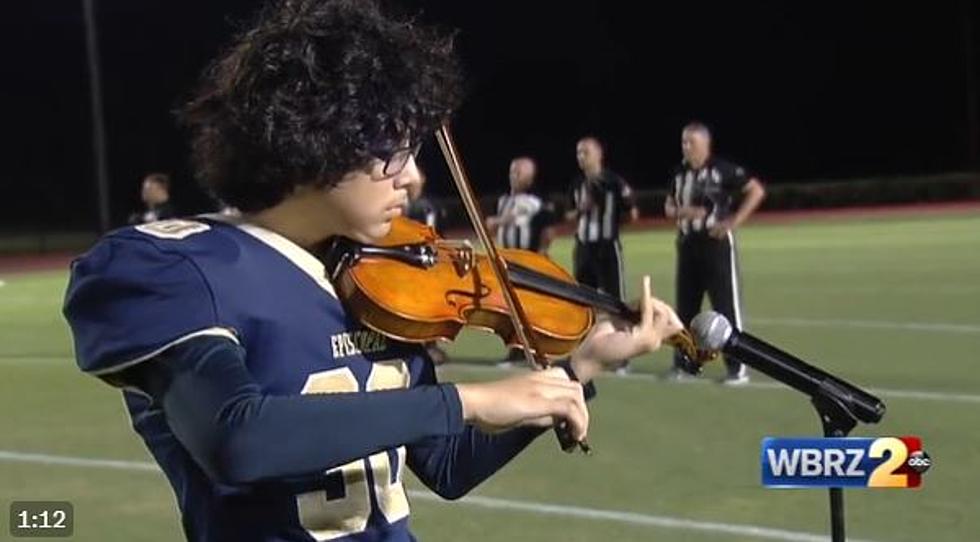 Louisiana Football Player Plays National Anthem On Violin Before Playoff Game
WBRZ Video
Last night in Louisiana, the Louisiana High School Athletic Association Football playoffs got underway with the Thursday games taking place. Before the games got underway, something really incredible happened before the game got underway, and that was when the National Anthem was played.
On multiple occasions, we have seen players or other members play different non-traditional instruments to play the National Anthem. Remember when Grand Lake's Wyatt Istre did it on his accordion? Check it out here:
How awesome was that! That happened back in 2021 when he made his way up to the press box where he broke out his accordion and performed the National Anthem for all the football fans in attendance.
Thursday Night, before the Episcopal vs MLK Charter 1st Round Playoff game kicked off, the National Anthem was played... But, Thursday Night, things were a little different.
Episcopal Senior football player Alex Buriege played the National Anthem before the Knights' playoff game against MLK Charter. As soon as the Anther was over, Buriege strapped it up to play in the first round of the playoffs.
Michael Cauble from WBRZ-TV out of Baton Rouge caught it on video and it's pretty awesome! Check it out here:
Tonight, the LHSAA playoffs will continue across the state. You can check out the complete brackets here.
Ten Things You Can Do Besides Stressing