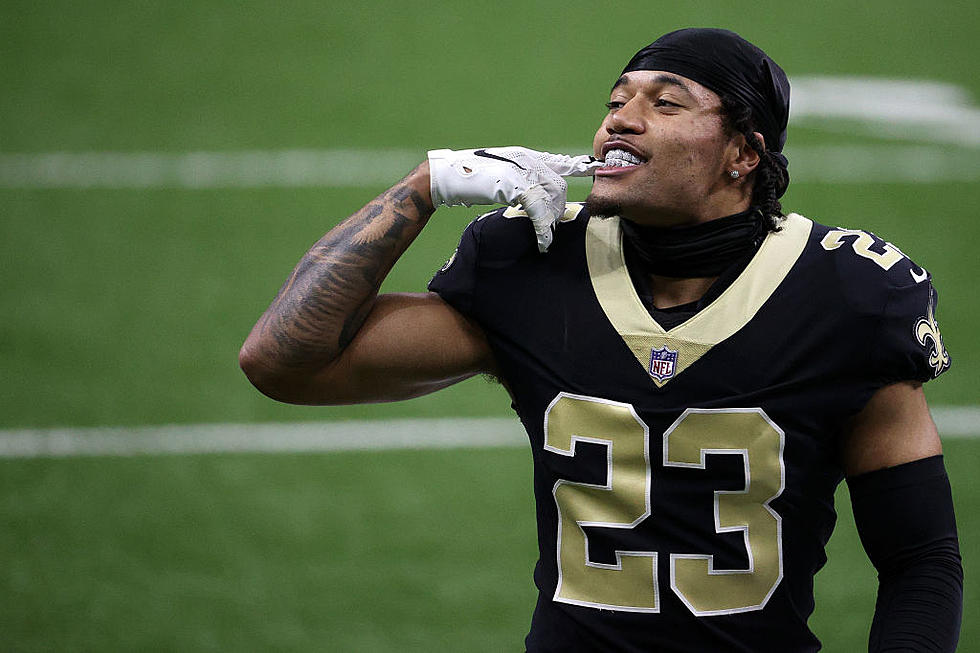 Somebody Send My New Orleans Saints Mock Draft To Mickey Loomis
Getty Images
The New Orleans Saints have many needs this offseason to address in the NFL Draft to make another run for the playoffs.
The Saints' quarterback question was answered as we signed Jameis Winston to a two-year contract. However, he still needs more weapons on offense and his blindside tackle, Terron Armstead, is taking his talents to South Beach (possibly to block for Tom Brady).
One of the things I love to do leading up to the NFL Draft is playing General Manager. There are many websites that let you run through your very own NFL Draft. My favorite site is Pro Football Focus. The interface is so easy to use and their drafting algorithm is awesome, and it feels like the teams before and after would actually pick the players they do based on team needs.
Overall, Pro Football Focus rated by draft a B+, but I think that's due to me trading up in the draft twice, They thought I gave too much away and rated both my trades with a D grade. I wanted to be aggressive in this draft, and I knew I needed to beat Carolina to Charles Cross, the most dominant pass blocker in this draft class, and I had to sweeten the pot for them to accept the trade offer. I scored our new LT for the next 10 years and a starting dominant number two wide receiver out the gate.
In my latest mock draft, I was able to trade up with the Carolina Panthers at draft pick number six to take our starting left tackle to keep all-pro lineman Ryan Ramczyk at his more familiar right tackle position. It came at a cost though, but I think it's worth it. I had to trade our 2022 first-round pick and a 2022 third-round pick, our second and third-round picks in 2023, and our third-round pick in the 2024 draft.
With the sixth pick in the 2022 NFL Draft, the New Orleans Saints selected Charles Cross, tackle, Mississippi State.
Here's Pro Football Focus evaluated Cross (Top 10 pick):
After flashing traits in his first year as a starter in 2020, Cross became a dominant pass-protector in 2021. After allowing 44 pressures on 574 pass-blocking snaps last season, he gave up only 16 pressures on 719 pass-blocking snaps this year.

 
I wasn't done trading picks yet. With one of the most physical and dominant college receivers left on the draft board, I had to trade up to the number 24 pick with Dallas. Once again, I had to give more than I wanted, but this receiver takes our passing game, especially around the endzone to another level. We had to trade our 2022 second-round pick, a six-round pick in 2023, and the 2024 second and fifth-round picks.
With the 24th pick in the 2022 NFL Draft, the New Orleans Saints select Treylon Burks, wide receiver, Arkansas.
Here's how Pro Football Focus evaluated Burks:
Burks' combination of size (6-foot-3, 225 pounds) and speed is unrivaled in the class. He racked up 1,100 yards and 11 scores last season. The true junior should be a vertical weapon in the NFL.

 
Here's how Pro Football Focus evaluated our 4th round pick Romeo Doubs (WR, Nevada):
Doubs was Carson Strong's top target for the Wolf Pack the past two seasons and went over 1,000 yards in each. He has good size at 6-foot-2 and 200 pounds and consistently separates down the field.

 
Here's how Pro Football Focus evaluated our 4th round pick Bailey Zappe (QB, Western Kentucky):
Zappe broke the record for passing yards and passing touchdowns in a season during his only year of FBS play. The NFL will be quite a steep transition, though, as Zappe was under pressure on just 12% of his dropbacks last season.

 
Later in the draft, I traded down with Washington. There is a ton of talent in this draft in the later rounds. I gave up the 101st pick and gained picks 113, 189, and 230 from the Commanders.
Romeo Doubs is a steal in the fourth round. He would start out the season as our number four wide receiver behind Thomas, Burks, and Calloway. With the Saints running a lot of four wide packages, Doubs will get plenty of playing time.  He'll also make a great contribution on special teams.
I think Bailey Zappe can mature into a very capable backup quarterback in the league. If you watch football, you know the most successful teams have a great number two QB that can win you three to five games a season while the starting QB is hurt.
I'm not ready to throw the towel in on Ian Book just yet. The game he started last season against the Dolphins should've been postponed. The Saints' roster was riddled with COVID and injuries. Book had to play with second-teamers, third-team players, and free-agent pickups. It's not his fault he didn't have a stellar performance. Under the circumstances, being a rookie and making your first start with the hurdles he had to jump over, I think he did well. He never looked scared or razzled, but on the other hand, he looked confident and in control of his offense.
In the later-round picks, I was able to feel some holes in the roster and add some valuable depth to the team. In the NFL, only 28% of players who are selected in the 4,5,6, and 7th rounds make NFL regular season rosters. However, I believe every player that I drafted would make the team on the main roster.
We got another steal in the fifth round with tight end Grant Calcaterra from SMU. He's a 6'-5" 247-pound force to be reckoned with. He has great hands, deceptive speed for a big man, and would give the Saints an open to run some two tight end sets. The only knock on Grant is that he's had a history of several injuries and I think that's what pushed him down the draft.
In my opinion, I was able to score another steal in the sixth round with the former NC State running back Zonovan Knight. This kid reminds me so much of Mark Ingram. He's a 5'11" and 215-pound bowling ball that rolls downhill and leaves defenders in his wake. I think Knight gives us the chance to trade the aging Mark Ingram later in the season when Alvin Kamara returns from suspension and we can get some future draft picks back that I had to give up for Cross and Burks.
In the seventh round, I took a flyer on Nick Zakelj, an offensive lineman from an FCS program, Fordham. PFF has him listed as a tackle, but he played guard in college. Do I think he's better than Ceaser Ruiz? No, but we do need some depth on our line. He was invited to the Senior Bowl, so that says a lot about what NFL scouts think about his talent level.
My final pick in the 7th round was Conor Heyward out of Michigan State. If his last name sounds familiar, yes his dad was former Saints legend Craig "Ironhead" Heyward. Not only is this a feel-good story for the team and fans, but this kid can flat out ball. I feel this is the biggest steal of our draft. Conor is listed as a tight end, however, he played tailback, tight end, wide receiver,  and kick returner for the Spartans.
I don't care what forty time he ran at the NFL Draft combine. The kid has football speed, and you can see it when he runs away from defensive backs while returning kicks. He runs with the same tenacity as his father, but Conor is more athletic. He has great hands and is a mismatch for any linebacker in the league. We can use him in so many ways. Image the nightmare fuel that he and Taysom would be for defenses when they're on the field at the same time.
Obviously, we have our kick returner with Deonte Hardy, but he can fill in because of injuries. We could also line him up at tailback for one-back sets or goal-line plays. We could line in up at tight end or slot receiver. The possibilities are endless, this kid is a jack of all trades.
What do you think of my mock draft?  Let us know in the comments.
Louisiana Foods For Game Day
Mikey O's Favorite Saints Players