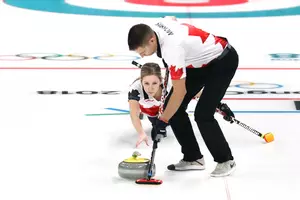 Want to Watch the Olympics Sans Cable?
Getty Images
Ready or not, here come the Winter Olympics for 2018. We all have that one friend that suddenly becomes an expert on curling and how the Canadian team got robbed last time. Now you can be an expert on how to watch as much coverage as possible without that pesky cable bill, assuming you have an antenna or at least internet access.
Stream it! Direct TV Now, YouTubeTV, Sling TV, and Hulu are just a few of the subscription based companies different Olympic packages at various coverage rates. Direct TV seems to be the best "bang for your buck" for $35 a month you get access to NBCSports, USA, CNBC, and NBCSports Extra. If you time that subscription right, you can just sign up for the 7 day free trial. Now, that's thinking thrifty!
NBCOlympics.com will be streaming all of the Olympic Coverage 24/7 during the games. Grab your laptop or fancy PC and get to streaming. There is a slight catch, after 30 minutes, they will ask you to log in with your TV service provider. I said it was a slight catch, just refresh and go again.
Grab the Aluminum Foil and Rabbit Ears. Well not this day in age. You can purchase an HD antenna and plug it into your TV to go old school. KPLC broadcasts over the air for free. It wont be all of the coverage, just what NBC broadcasts, but at least its something!