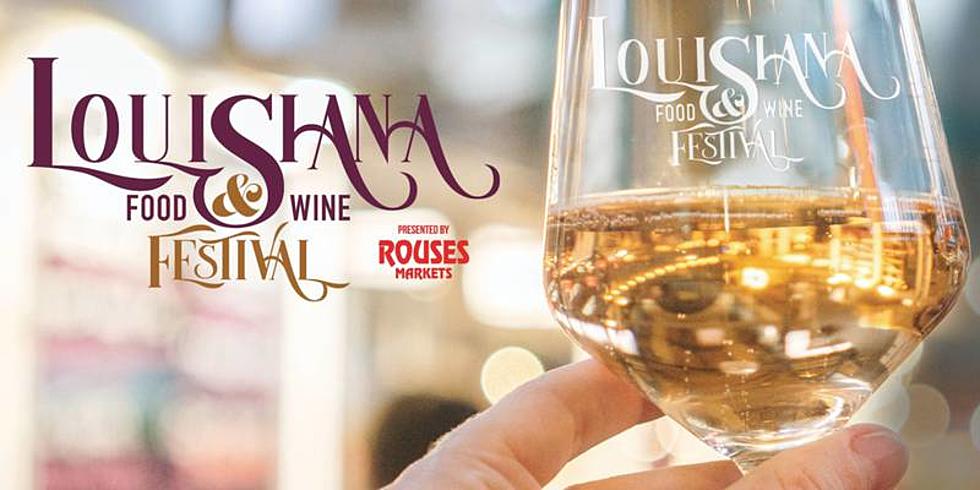 2024 Dates Announced For 2nd Louisiana Food & Wine Festival
Visit Lake Charles
September has been the month for food and wine in the Lake Area as Visit Lake Charles hosted their inaugural Louisiana Food & Wine Festival. The event was such a hit, that they're bringing it back for another year and they have announced the dates for next year!
According to Visit Lake Charles, the first event drew a diverse crowd of more than 3,000 attendees, many first-time visitors from 14 states and internationally from Canada, London, and Prince Edward Island. The festival took place in downtown Lake Charles at Bord Du Lac Park.
Attendees spent the festival days eating and drinking over 400 pounds of shrimp, 200 pounds of crawfish, and 100 pounds of fish, popped over 1,800 bottles of wine and spirits, and cracked open 200 cases of beer.
The four-day festival showcased mouthwatering culinary creations from award-winning and celebrity chefs, including Amanda Cusey, Benchawan Jabthong Painter, Anthony Goldsmith, Dave Evans, Meg Bickford and the reigning Louisiana Seafood Cook-Off King Owen Hohl.
Best Taste Awards:
Best Meat: Paul's Rib Shack Barbecue
Best Creole/Cajun: Hebert's Specialty Meats
Best Dessert: Coffee:30
Best Vegetarian: Bodega Wine Dive
People's Choice Best Taste Awards:
Best Seafood: Luna
Best Creole/Cajun: 1910
Best Dessert: Coffee:30
Best Spirit: Bayou Rum Distillery
The visitor's bureau is already looking forward to 2024. Mark your calendars for the second annual Louisiana Food & Wine Festival, September 19–22, 2024.
Eight Signature Louisiana Dishes