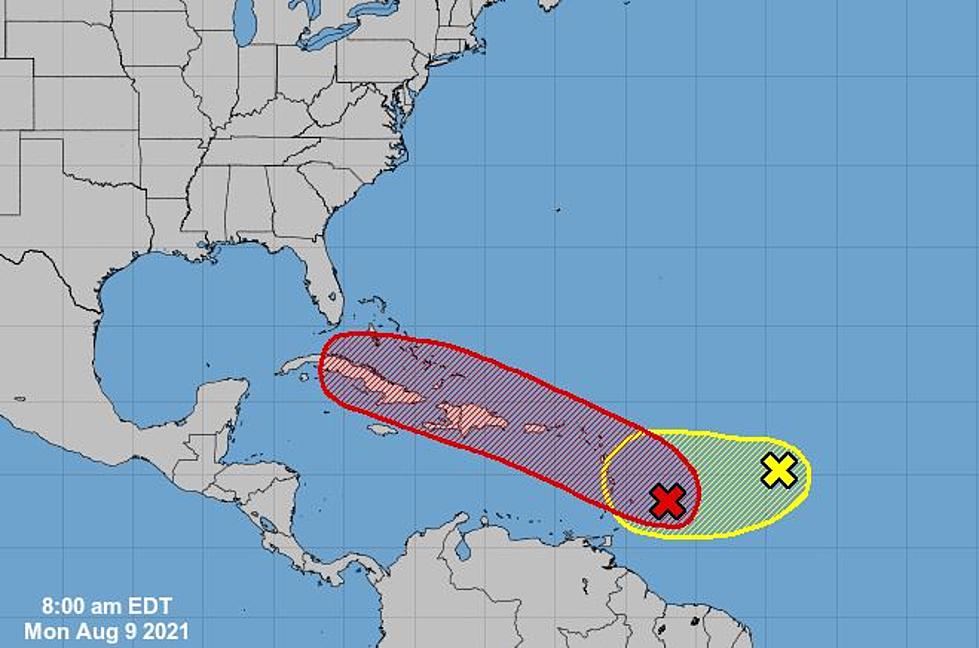 Disturbances Heating Up In The Atlantic Ocean
NOAA/National Hurricane Center
Don't look now but the Atlantic Ocean is heating up with two separate disturbances brewing in the ocean. We just enjoyed a weekend in Southwest Louisiana and now we wake up to these two disturbances to watch.
The one in red is the one we will need to watch closely as the National Hurricane Center is giving it a 70% chance of formation in the next 49 hours. The cone of the track makes everyone in Southwest Louisiana a little nervous.
That is because if you see the five-day outlook, it looks like the track would take over Cuba, and it if survives the mountains of the country. it could just make it into the Gulf Of Mexico.
The disturbance is currently on a West-Northwest track moving at about 15 mph.  The National Hurricane Center is saying it could be likely that a tropical depression could form in the next few days. So keep an eye on this and so will we.
The second disturbance in the Atlantic only has a 10% chance of formation in the next 48 hours with a 20% chance to form in the next five days.  Right now this one is not a concerning as the one in red.
If it does form and holds together over all the land the track shows it will need to cover and get into the Gulf, we all need to remember to be prepared.  Have your plan in place and prepared.
We will be with you every step of the way just like last year when we covered hurricanes Laura and Delta around the clock for you We are in this together with you!
The Impact of Hurricane Laura on Lake Charles