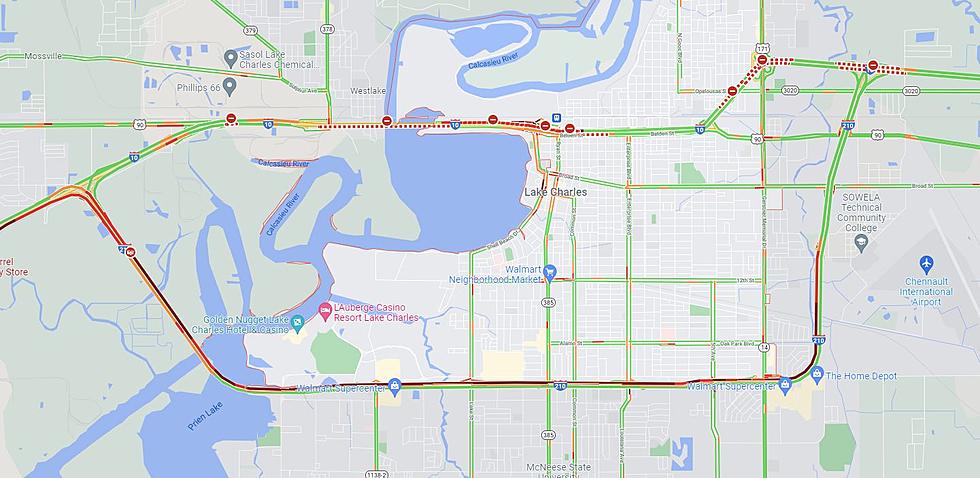 I-10 Bridge Is Shutdown In Both Directions In Lake Charles And Here's Why
DOTD
UPDATE as of 1:30 pm - N. Lakeshore Drive westbound on-ramp is now open. East still remains closed.
The I-10 bridge is currently shut down in both directions East and West bound. The shutdown is causing chaos on the roadways in Lake Charles today.
The reason for the shutdown? Last night we reported that an 18 wheeler caught on fire last night on the bridge. The fire was caused when the 18 wheeler tried to move into a lane when two cars came up beside them and the driver of the rig tried to overcorrect and that is when the accident occurred.
Now as for the traffic. I-10 Eastbound and Westbound are basically shut down from the I-10/210 split on the Lake Charles side to the I-10/210 split on the Sulphur side.
This is causing I-210 Westbound to be backed up from the Sulphur split all the way to Legion street and almost to the Lake Charles side of the I-210 split.
!8 wheeler rigs are parked along the side of the medians along the Lakeshore Drive waiting until the road reopens.
The Lake Charles Police Department told us that both I-10 East and Westbound are closed until further notice and until the DOTD finishes their inspection of the bridge to make sure it is safe for traffic to pass over it again.
Stayed tuned. We will keep you updated.
Lake Charles Today