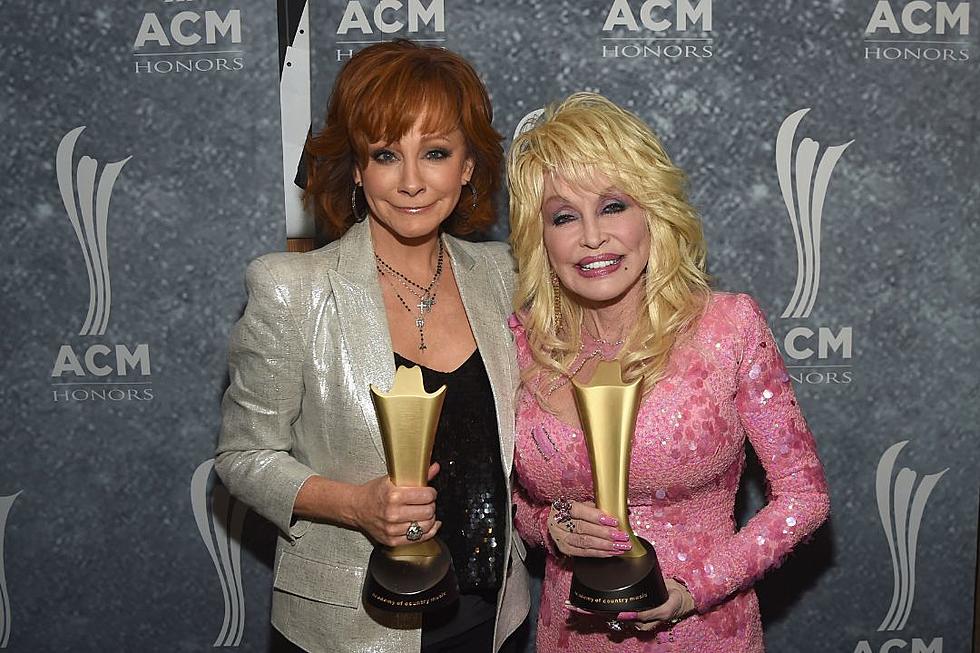 Reba McEntire Reveals Her Candid Reaction to Meeting Dolly Parton for the First Time
Rick Diamond , Getty Images
Two of country music's most renowned icons, Reba McEntire and Dolly Parton, have made something of a resurgence in mainstream media this year.
McEntire released a book, Not That Fancy: Simple Lessons on Living, Loving, Eating, and Dusting Off Your Boots, and Parton did, too: Behind the Seams: My Life in Rhinestones. She also has a rock record coming out later this month.
I had the opportunity to sit down with McEntire recently, and one of the things I wanted to know is whether she remembered the first time she ever met Parton.
"The first time I was ever in her presence was September 17, 1977. It was my first time at the Grand Ole Opry," she says, reciting the exact date she saw her in the flesh. "I was gonna get to do two songs, and they came to me and said, 'Well, we're gonna have to take one of your songs,' and I said, 'Why?' They said, 'Well, Dolly Parton just pulled in the parking lot and we're gonna give her one of your songs.'"
I could tell as McEntire was describing the experience that was being genuine — the memory was very vivid to her.
"I said, 'She can have both of them. Can I meet her?'" she recalls "I didn't meet her, but she did walk in front of me, and I thought, 'Oh my God, that's the most beautiful woman I've ever seen in my life.' She kinda floated by. She was just like an angel."
One would draw the conclusion that the two ladies were in heavy competition during the '80s and '80s, but McEntire says no way — that wasn't the case at all.
"Not competition with Dolly. No. I am not a competitor with Dolly," she insists. "Dolly's Dolly. I'm a little over here. Dolly, you know .. she's everything. I've always looked up to her. I've watched. I've learned. I have listened."
McEntire went on to talk about her favorite projects, saying: "My favorite album, two of my favorite albums, is Dolly Parton's first album, Blue Ridge Mountain Boy, and Carole King's Tapestry. I love story songs. I love the intimacy of them telling you a private story about their lives through a song."
McEntire is currently on Season 24 of The Voice. She has already signed on to coach a team on Season 25, too.
Evan Paul is the host of Taste of Country Nights, a syndicated radio show heard on more than 120 country radio stations nationwide, every night from 7PM to midnight. He plays the best new country music and interviews today's top stars, like Luke Combs, Miranda Lambert, Dan + Shay, Keith Urban, Carrie Underwood, Luke Bryan, Chris Stapleton, Lady A, Morgan Wallen, + more! 
See 50 Essential '70s Country Songs
It's the 50 best country songs from the 50 best country artists of the 1970s. This list of essential '70s country songs includes No. 1 hits, brilliant covers, crossover ballads and more. Most you'll know, but some you'll need to hear to understand. As was the case with our popular
Essential '80s Country Songs
and
Essential '90s Country Songs
lists, only one song was allowed per artist.
Gallery Credit: Billy Dukes
R.I.P: Remembering Country Stars Who Died in 2023
Take a moment to remember the country artists, songwriters and other industry members who
died in 2023
.
Gallery Credit: Billy Dukes
The Best Oliver Anthony Songs — His Entire Catalog, Ranked
A chronological listen of
Oliver Anthony
's songs shows a longterm effort to massage the themes present in "Rich Men of North Richmond." Fans will also find he's capable of so much more than being a blue collar folk hero.
The best
Oliver Anthony songs
are dynamic and complete. They also hold true to the buoyant optimism he speaks of during candid conversations on his YouTube page. Hope isn't always present, however — tracks released in late summer 2022 find the Virginia-raised singer on a dark path, singing of heartbreak and suicide. You can hear and see (if there's video) the strains of life across his face.
Taste of Country ranked all 16 songs Anthony has released so far. Most are cell phone recordings, but we didn't hold a lack of production quality against him. Instead, each song is rated based on strength of message, originality and overall appeal. "Rich Men ..." ranks third, which is not a criticism of his debut hit as much as it is praise of two other mostly unheard-of songs.