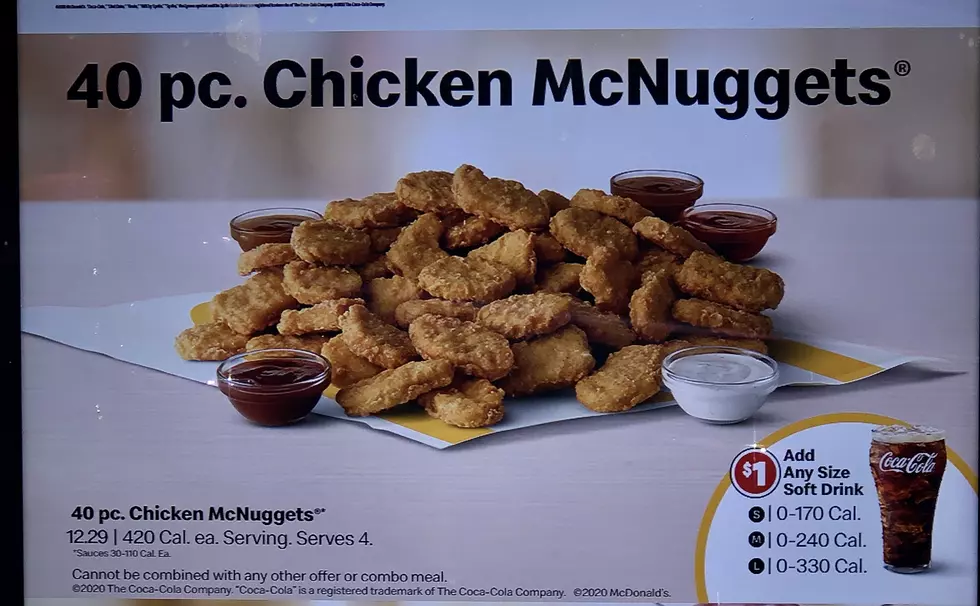 Lake Charles McDonald's Offering 40-Piece Chicken Nuggets Now
40 piece Chciken McNuggets (Photo by Mike Soileau TSM)
Over the weekend, we went to a local McDonald's to grab a little lunch while running errands around town. When we pulled up in the drive-thru, imagine our surprise when we saw McDonald's is now offering chicken McNuggets in a huge portion.
That's right, McDonald's in the Lake Charles area are offering 40-piece Chicken McNuggets. The sign said it could feed a family of four. Wondering how much it will cost you?
I was wondering the same thing, so I took a little better look and saw they are offering them for $12.29. When we saw the price, we thought that was not bad at all. What are your thoughts?
Think about it, you can feed a family of four for only $12.29 and get 40 McNuggets. Not too bad! We wonder how many dipping sauces you get with that amount of nuggets? If you are wondering where we saw this, it was at the McDonald's location on Nelson Road.
Enter your number to get our free mobile app
Top Ten Restaurants Lake Charles Needs