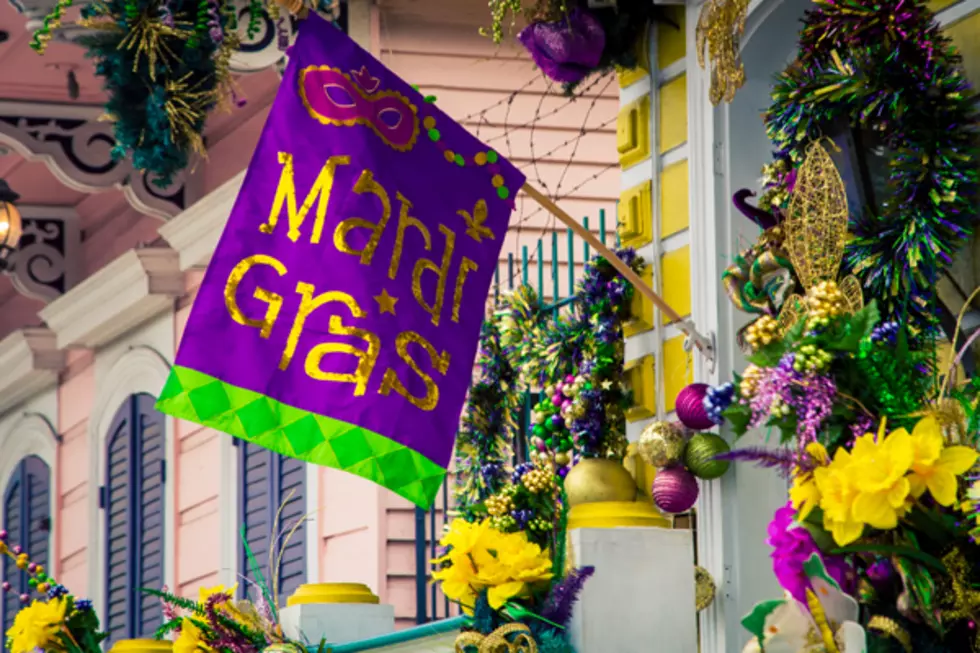 Mardi Gras 2022 Schedule Of Events – Times, Dates, And Places
Getty Images/iStockphoto
If you think about it, Mardi Gras is just a few weeks away. It kicks off here is SWLA from January 6 through March 1, 2022! Yup. An from the looks of things Mardi Gras Krewe line-up's for area parades, balls, and cook-offs is off to an early start. There are several scheduled events already planned for the 2022 Louisiana Carnival Season.
The Lake Charles Mardi Gras experience features more than 60 krewes! So, a lot of planning goes into all of the festive events leading up to Lundi Gras and of course Fat Tuesday. By the way, there is still time to enter the Virtual Mardi Gras Shoebox Float Contest. Entry forms must be submitted no later than midnight on Monday, Jan. 31. For a complete list of scheduled events set for the 2022 Mardi Gras festival in SWLA, head to visitlakecharles.com.
Wednesday, Jan. 5 - Imperial Calcasieu Museum, Mardi Gras Museum Exhibit
204 W. Sallier St., Lake Charles, LA
Krewe Mardi Gras costumes will be on display from Jan. 5 – March 27.          Wednesday – Saturday 10 a.m. – 6 p.m. / Sunday 1 – 4 p.m. ($5 adults, $3 kids, $2 seniors) *Reception on the opening night of Jan. 5
Thursday, Jan. 6 - Mardi Gras 12th Night
Lake Charles Civic Center
Ribbon and Kings Cake Cutting at 5:30 p.m. – 2nd Line Parade and Food Trucks
Friday, Jan. 7 - Live at the Museum event at 7 p.m.
Lake Charles Civic Center
Kings, Queens and Captains (Honoring Lords and Ladies)
Live music, food & dancing
Saturday, Jan. 8 - Car Show & Street Dance (noon – 4 p.m.)
2nd Line Street Dance with a Band or DJ
Outside the Lake Charles Civic Center
Friday, Feb. 25 - Merchants' Parade  7 p.m.
(Starts in downtown Lake Charles, travels down Ryan Street, ending at Sale Street)
Saturday Feb. 26 -  World Famous Cajun Extravaganza Gumbo Cookoff
Lake Charles Civic Center from 8 a.m. - 2 p.m.
Krewe of Barkus Parade 2p.m. (Lake Charles Civic Center Amphitheater – Gill St.)
Krewe of Omega Parade 2p.m. ( Downtown Lake Charles, Enterprise Blvd.)
Sunday Feb. 27 - Lake Area Runners, Mardi Gras Madness 5K
(Prior to Children's Parade on Ryan St.)
The Children's Parade 3:30 p.m. (Starts downtown Lake Charles, Ryan Street, ending at Sale Street.)
March 1 - Fat Tuesday
Second Line Stroll  - 1 p.m. (Ryan Street)
Jeeps on Parade - 2 p.m. (Ryan Street)
Motor Gras Parade - 3 p.m. (Ryan Street)
Krewe of Krewes' Parade - 5 p.m. (Starts downtown Lake Charles, Ryan Street, ending at Sale Street)
Iowa Chicken Run / Gumbo & Zydeco Dance - 10 a.m. - 2 p.m. (following the Second Line Stroll – KC Hall, Iowa)
LOOK: 50 famous memes and what they mean
With the infinite number of memes scattered across the internet, it's hard to keep track. Just when you've grasped the meaning of one hilarious meme, it has already become old news and replaced by something equally as enigmatic. Online forums like Tumblr, Twitter, 4chan, and Reddit are responsible for a majority of meme infections, and with the constant posting and sharing, finding the source of an original meme is easier said than done. Stacker hunted through internet resources, pop culture publications, and databases like
Know Your Meme
to find 50 different memes and what they mean. While the almost self-replicating nature of these vague symbols can get exhausting, memes in their essence can also bring people closer together—as long as they have internet access.