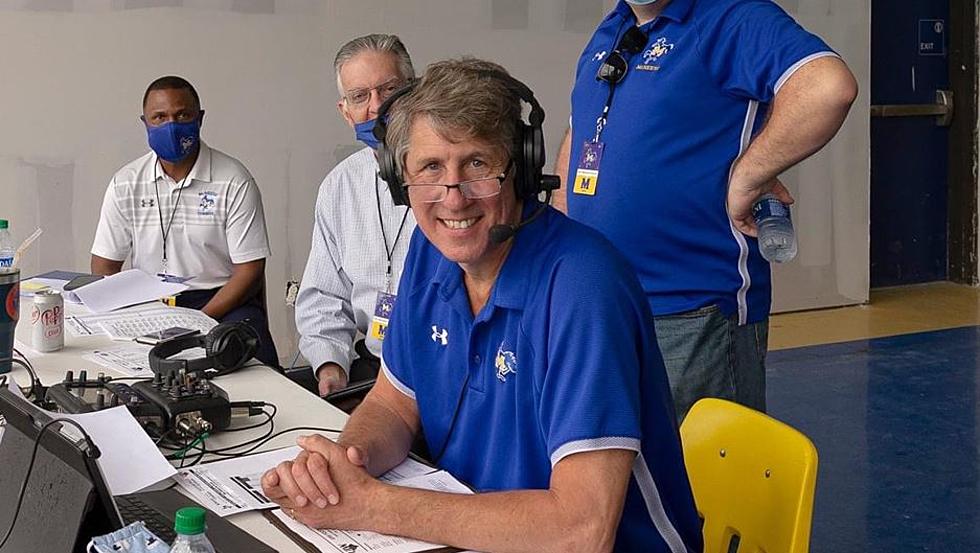 McNeese Radio Announcer Tom Hoefer Returns Home To Call McNeese Playing His Alma Mater
Courtesy Photo - Tom Hoefer Facebook
A full circle moment will come this weekend for the "Voice of McNeese" Tom Hoefer as Tom heads back home to Illinois to call a game for the first time. I had the privilege to sit down with Tom this week to talk about the Homecoming.
Tom was born in Michigan and grew up in Salem, Illinois. At a young age, he started working part-time at a local radio station and continued to work there through parts of high school and college.
I was able to do news, disc jockey work, and production work, and even when I was a Junior in High School, I did my first play-by-play game. It was a high school girls basketball game.
During his time at Eastern Illinois, Tom did not do radio. He was actually majoring in Journalism at the time and they did not have a college station at that point. Tom would go home during the summer and do some work during his downtime.
During his time at Eastern Illinois, the Quarterback of the Panthers was none other than Sean Payton...
I met Sean on 2 different occasions while I was in school there. I remember those two occasions, but strangely enough, he does not... Wonder why that is..
Tom has been the Voice of McNeese Football for 24 years and this will be Tom's first trip to call a game at Eastern Illinois.
It's going to be a great experience. Just to think back at some 40ish years later and to think you'd be going back for the first time as the play-by-play voice of a school with the tradition of McNeese. I would be absolutely thrilled looking back.
Oddly enough, Tom has not seen a game at Eastern Illinois since Sean Payton was the Quarterback. He has actually never been inside of the pressbox...
I have not seen a game there since Sean was the Quarterback. I have driven past the stadium, but I haven't been back in it. I have never actually been in the press box there, so that's kind of cool. I sat in the stands while I was there.
Tom has been in Southwest Louisiana since 1988. He has been the Voice of McNeese Football for over 20 years, so I was curious how he'd feel being a Panther but being with McNeese for so long...
Well, we played the Panthers last year and I wholeheartedly and 100% for the Cowboys and there is no equivocation of that whatsoever. As soon as the Cowboys are done playing them on Saturday, I will go back to being a Panther fan.
When you haven't been to a place where you spent so much time as a youngster, what would you most look forward to? Tom gave us what he's looking forward to ahead of the trip to Illinois...
I am going to get to see some friends and folks that I haven't been able to see for decades. I am going to go back to the places where I lived during my time on campus, including going back to see my old fraternity house and seeing what it is like now.
Famous People Born in Louisiana