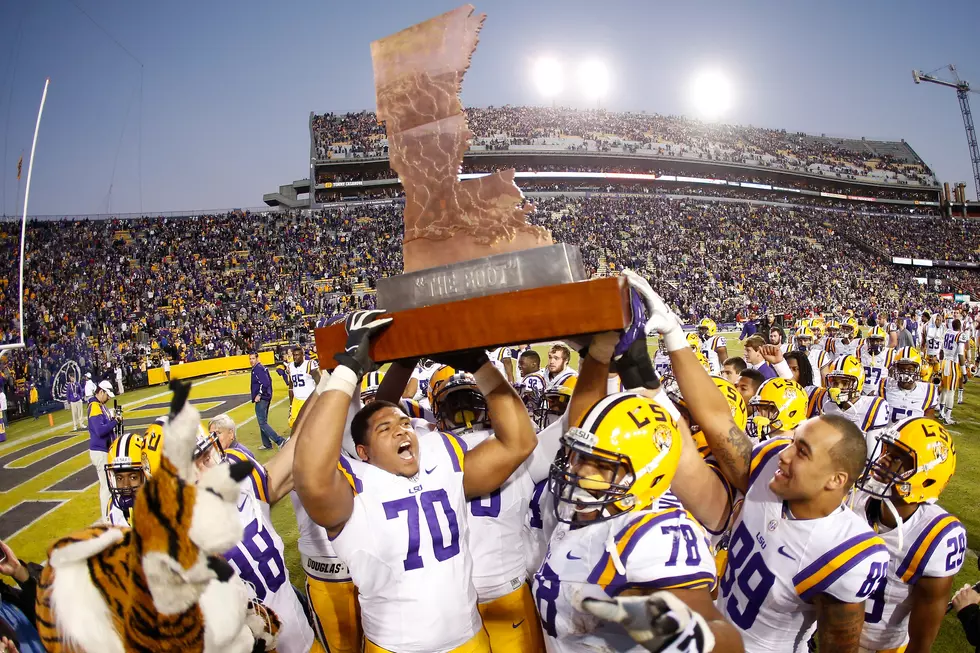 The Battle Of The Boot Is Going Down In Baton Rouge This Saturday
LSU and Arkansas Battle Of the Boot(Photo by Chris Graythen/Getty Images)
It's time again for the annual Battle Of The Boot football game and this year the game is going down In Baton Rouge, Louisiana. This is where the LSU Tigers football team takes on the Arkansas Razorbacks.
It's week four of the college football season and LSU and Arkansas are set to face off in Death Valley in Baton Rouge this Saturday night. In the past, the Battle of the Boot game wasn't played until later in the year but in the past few years, the two teams have been facing off early in the season.
LSU who is ranked #12 in the country, sits at 2-1 on the season. They are also currently leading the SEC West standings with a 1-0 start in conference play. They lost to Florida State in the season opener but then bounced back to beat Grambling and Mississippi State. Arkansas who is not ranked also sits at 2-1 on the young season.
LSU has won six of the last seven matchups and taking the trophy back to Baton Rouge. Their only loss was back in 2021 when they lost in overtime to the Razorbacks.
Why is it called the Battle Of The Boot? Well if you look at the map and see Arkansas and Louisiana, it looks like a big old boot, and the trophy the winner of the game gets is shaped exactly like that.
Arkansas and LSU are set to kick off at 6:00 p.m. this Saturday night, September 23rd, 2023 in Baton Rouge. The game will be televised on ESPN and the winner will take home the Battle of the Boot trophy.
Louisiana Foods For Game Day