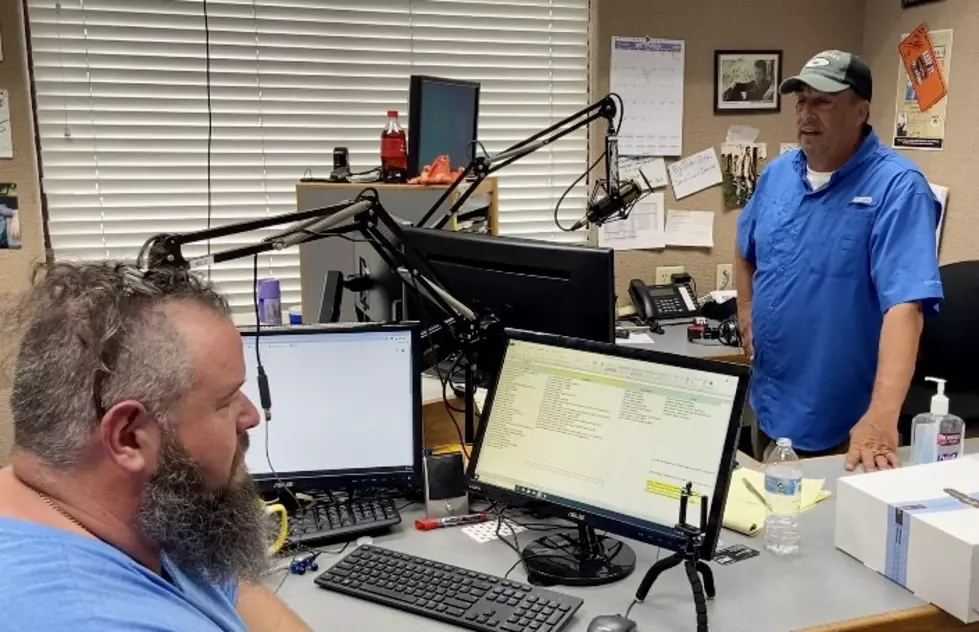 Townsquare Media Lafayette Delivers Food to Tired Lake Charles DJs [VIDEO]
Staff Photo
Mike Soileau and Buddy Russ from Gator 99.5 in Lake Charles have been on the air since Saturday (post-Hurricane Laura) at Townsquare Media Lake Charles in make-shift living quarters with generated power, no shower or bath and a temporary transmitter that barely covers the city of Lake Charles. When Townsquare Media Lafayette found out these two incredible broadcasters wanted Cajun sausage, coupled with Soileau's known passion for Whataburger, a food delivery was in order!
Of the six Townsquare Media radio outlets in the Lake Charles area, Gator 99.5 is the only station on the air since Hurricane Laura devastated Southwest Louisiana in the early morning hours Thursday. These guys are superstars in the Lake Charles area. Today, witnessing their love and devotion for their community, showed exactly why they are so loved in Southwest Louisiana.
Mike and Buddy Russ have been working 12-14 hours straight, each day, since Saturday. They are tired and running on adrenaline, but optimistic that Lake Charles will come back bigger and better than ever. Mike, Russ and Gator 99.5 are a shining reminder as to why local radio and announcers who are entrenched in their broadcast communities are still viable, relevant and who people turn to for a laugh over a cup of coffee in the morning or for the location for a free meal after a catastrophic event.
Townsquare Media Lafayette salutes our Townsquare Media Lake Charles family and would like to thank The Best Stop in Scott, Nothing Bundt Cakes in Lafayette and Whataburger on Ambassador Caffery in Lafayette for helping make today special.
7 Things Louisianans Will Never Back Down On