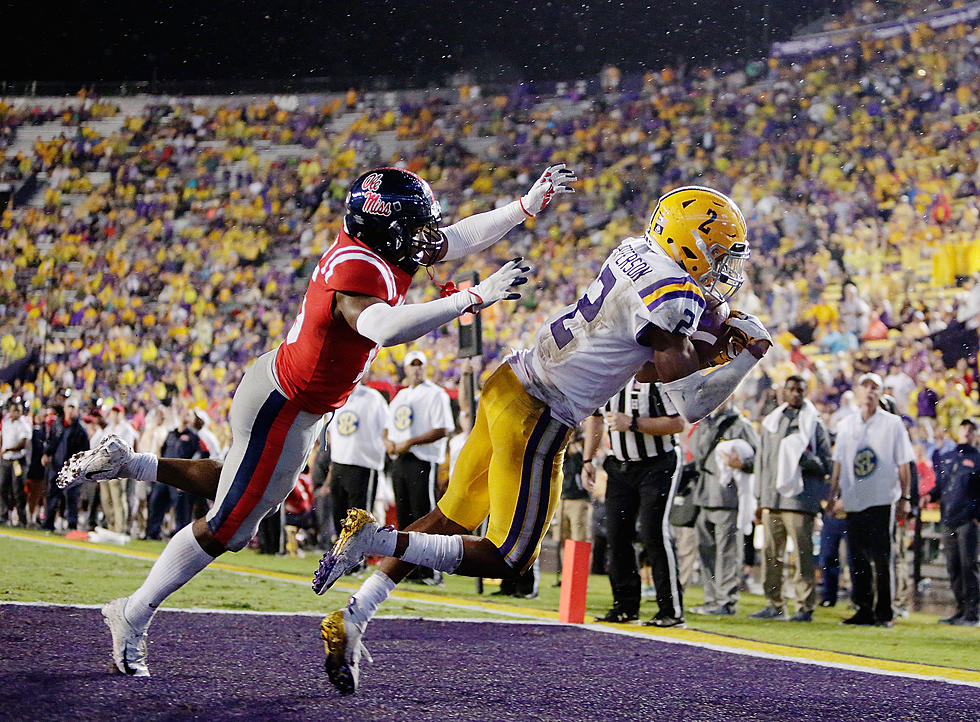 LSU/Ole Miss Set For Magnolia Bowl Battle On Saturday
Ole Miss and LSU (Getty Images)
The LSU Tigers and Ole Miss Rebels are set to renew the Magnolia Bowl Rivalry on Saturday, and we have everything you need to know about the matchup..
For the second straight week, the LSU Tigers will be vying for a chance to keep some hardware in the trophy case at Football Ops in Baton Rouge. Last week it was the Golden Boot, this week, it's the Magnolia Bowl Trophy.
The LSU/Ole Miss rivalry was named the Magnolia Bowl in 2008 after a motion from students at both universities. Louisiana and Mississippi share the magnolia flower as their state flower, hence the game's nickname. Ole Miss defeated LSU 31-13 in their first game under the "Magnolia Bowl" title at Tiger Stadium.
There in fact is a trophy to be played for in the Magnolia Bowl.
A Magnolia Bowl trophy was designed and issued to the Rebels after their '08 win. However, the first version of such was a bland and unpopular block of wood with a fake magnolia flower and nameplate. The current version of the Magnolia Bowl Trophy was introduced in 2014. It is a carved piece of wood adorned with LSU and Ole Miss logos and a magnolia flower insert.
The Tigers have played Ole Miss every season since 1945. Thus, the potential for the game to shift to an every-other-season format after SEC expansion is unfavorable. The Tigers are 65-42-4 against the Rebels all-time.
An SEC West showdown on Saturday night. The kickoff of the Magnolia Bowl is set for 5 p.m. and can be seen on ESPN.
Ten Things You Can Do Besides Stressing